Maternity Hospital Bag Checklist
It's a good idea to have your hospital bag packed and ready from around 35 weeks of pregnancy. See what to pack here.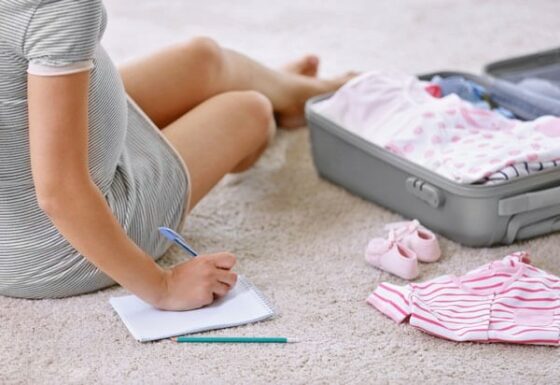 To avoid a mad rush following your first contraction, it's a good idea to pack your hospital bag at around 35 weeks. We've put together a checklist to cover the essentials but feel free to add your own little extras. Check with your doctor or midwife if you have any special requirements, too.

What to pack for you
Clothes – A nightie or big t-shirt for labour (much easier than PJs), a dressing gown for around the ward, and some cosy socks and slippers. Bring loose fitting clothes and comfy shoes for going home (your tummy will still be quite big).
Undies and bras – Maternity bras or singlets (ideal for feeding) and a few of your oldest pairs of undies (you might end up binning them afterwards). High-waisted nanna knickers provide good support following a caesarean, and avoid the wound area.
Toiletries – Toothbrush, toothpaste, deodorant, shower gel and shampoo, hair brush and ties, moisturiser and hand cream.
Breast pads – A couple of boxes for when your milk comes in.
Sanitary pads – A pack or two of 'super' or special 'maternity' pads.
Glasses/contact lenses – Easy to forget, impossible to do without! Don't forget your glasses case and contact lens cases/solution too.
Mobile phone and charger – So you can share the happy news with your friends and family.
What to pack for labour
Your birth plan
Swimmers and a towel (if there is a bath)
Lip balm
A wheat pack or hot water bottle
Healthy snacks and drinks
Magazines/iPod (in case labour stops and starts)
Spray bottle
Little extras like massage oils or your favourite pillow
What to pack for your baby
Clothes – A few onesies (or anything with press studs) for easy changing, plus scratch mitts, cosy socks/bootees, and a beanie and cardigan if it is cool. Their 'going home' outfit will need legs so the capsule strap can fit between them.
Disposable nappies and baby wipes – Bring your own if you plan to use them, as some hospitals don't supply disposables.
Muslins – Useful for swaddling and keeping your little one (and you) clean during feeding.
Baby lotion – For a bonding massage with your baby.
Baby blanket – To tuck around your bub in the capsule for the ride home. Make it a super cosy one if the weather's cold.
Capsule – Make sure it's correctly fitted in your car ready for the journey home.
What your birthing partner should pack
Toiletries and a change of clothes – Labour can take a while so a change of clothes, a toothbrush and toothpaste are a good idea for freshening up along the way.
Food and drink – Have a supply of snacks and drinks for during and after labour.
Loose change – Have some cash at the ready for parking.
Swimmers and towel – If there's a large bath at your hospital, they could join you in the bath for extra support.
A camera/smartphone and charger – Make sure it has plenty of room on the memory card to capture those special moments.
Want to know more? Call us on 1800 842 098 or Live Chat now.