Third Trimester Of Pregnancy
Singing and talking to your baby in the womb can help to establish a special bond. There are other things you can try, too.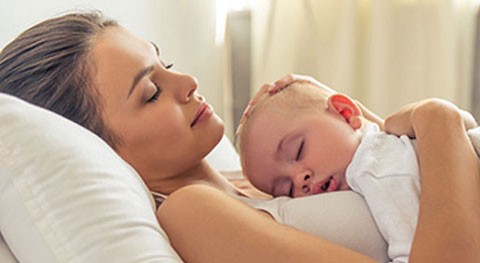 Bonding with your baby during pregnancy is a very special experience. It doesn't need any fancy equipment or expensive gear. To bond with your growing baby, all you need is a little time, your own voice and a book or two.
If you are wondering how you can establish a special bond with your baby before birth, you might want to try some of these ideas.

Talking and singing
From the start of the third trimester, your baby can hear you clearly. Research shows that the sound of your voice is amplified through the womb. What's more, research has found that a newborn baby can be soothed when a mother sings the same song they sang when pregnant, or reads the same storybook they read to the unborn baby.
Choose a song and a children's book you love and start singing and reading to your baby when you can. Not only can your baby hear the words, but you'll likely find it is a beautiful bonding experience for you, too.
There is less evidence around whether your baby can hear other people's voices in the womb. But don't let this stop your partner from joining in this ritual. They may want to choose their own special storybook to read to your unborn baby, too.

Imagining your baby
Try picturing your baby as they grow up. In your mind's eye, see what they look like, what their name will be, what games they like to play, or what values they will have. You may even picture them all grown up, getting married or becoming parents themselves.
If you find this hard to do, try setting yourself a simple task – for example, writing down a list of values you would like your future child to have. Then, write down how you could help them to nurture and develop these values.

Recording your pregnancy journey
Another bonding activity you may want to try is journal writing. Buy a beautiful journal – find one that spans five years or more, with only a few lines per day – and record your daily experience of pregnancy.
These snippets of your pregnancy journey, which will soon include daily observations from your little one's earliest years, will be a wonderful reminder in years to come of this remarkable time in your life. And just think, what a nice gift to hand over to your child on their 18th birthday.

SIGN UP FOR WEEK-BY-WEEK PREGNANCY UPDATES

Want to know more? Call us on 1800 842 098 or Live Chat now.
Track your baby's development
Get month-by-month advice on your baby's development

Sign up