From around week 28 and onwards, you really start to feel the effects of your pregnancy. By now, baby is as big as an eggplant – and is growing fast. Sleep gets more difficult, baby movement becomes much more noticeable, and the birth is in sight. Learn how to make this trimester more comfortable for you and bub.
The countdown to birth begins in earnest in the third trimester. It's an exciting time, but it can be exhausting, too.
Your baby starts this trimester about the size of an eggplant. By now, they are in a regular routine of sleeping and being awake; their senses are well developed; and they are almost ready for life on the outside. Their vital organs and skeleton are complete, and they spend this trimester growing and strengthening. It's important to be aware of your baby's movements during the third trimester, as normal movements are a sign of a healthy baby. If you feel a decrease in the normal daily activity of your baby, contact your midwife or doctor immediately.
As baby grows, your body starts to feel the effects. Backache is common in the third trimester, and it can be hard to get a good night's sleep. Apart from finding it hard to get into a comfortable position, you might be making a few trips to the bathroom each night because of pressure on your bladder.

Managing third trimester ailments
After floating through the second trimester full of energy and feeling great, your pregnancy really makes itself known again in the third trimester. Everything from indigestion to haemorrhoids to varicose veins can affect you.
Try to maintain a healthy diet, and fit in some gentle exercise if you can. It's especially important to get into the routine of doing pelvic floor exercises to help make your muscles more elastic for the birth. If you're not sure what activities are safe for you at this stage of your pregnancy, check with your midwife or doctor.

Preparing for labour and birth
As your due date looms, your thoughts may be consumed with the upcoming labour and birth, particularly if this is your first baby. Remember that the vast majority of births unfold without a hitch – it is a very safe, very natural process.
To alleviate your worries, it can help to read up on what to expect, or to talk to a trusted midwife. Knowing a little bit about the signs of labour, and how long each stage lasts, can help both you and your partner as you navigate this unchartered territory.
Then there are all the practical ways you can prepare for your birth. Packing a hospital bag, preparing your nursery, and filling your home with all of the baby paraphernalia that you will need is a wonderful way to affirm the exciting event that is on the horizon.
In the final weeks of your pregnancy, rest up. Put your feet up whenever you can, and enjoy quiet moments with your partner or by yourself. Your life is about to undergo a very dramatic, most beautiful change as you move from pregnancy to parenthood.

Want to know more? Call us on 1800 842 098 or Live Chat now.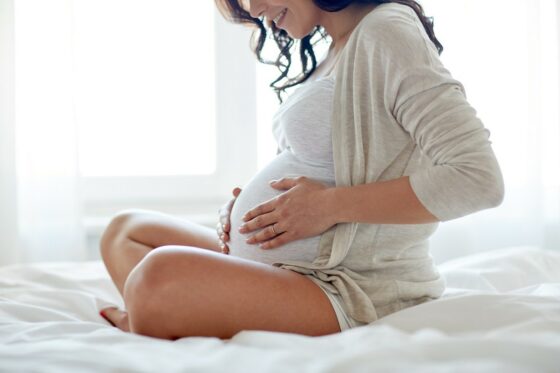 Track your pregnancy
Get week-by-week updates on your baby's development and your pregnancy.
Sign up