Family Meal Ideas for Picky Toddlers
Avoid mealtime meltdowns with these handy tips to make your family meals less stressful with a toddler in the house.
Bringing your toddler to the family table at mealtimes is a great way to encourage him to try more foods. But it can be fraught for a family who has previously enjoyed calm and relatively mess-free meals!
To avoid mealtime meltdowns (whether yours or your toddlers!) you need to let go of a few rules and make family meals fun for everyone. Here, we look at creative ways to encourage your toddler to develop a healthy relationship with food.
The new normal: family meals
Mealtimes are an opportunity for your toddler to test boundaries and assert their own choices – which can make for very messy eating. Even so, you should try to eat with your toddler as often as you can. That means pulling his high chair up to the table and serving him smaller portions of whatever you're eating.
Have your toddler carry placemats to the table and be an active participant in the meal activity. Encourage them to stand up at the bench to help "prepare" meals. Arranging food on the plate to look like a smiley face or a number can help them learn and feel more included.
Children learn by example, so if they see you eating a variety of foods, they are more likely to do so too. Research shows that children who eat with their families are likely to consume a wider range of foods with an increased intake of fruits and vegetables and are more likely to have higher nutrient intakes1.
Routine: a key ingredient for toddler meals
Most toddlers respond well to the security of a routine. Sticking to a regular schedule of meals and snack times can help your toddler remain on a more even keel throughout the day.
Remember, toddlers are less likely to cooperate if they're tired or hungry, so plan meals well before naps or bedtime. It may mean that you have to bring the evening meal forward by an hour or two – which might feel a little strange for the adults if you're used to eating later. But, like many other aspects of parenting, it soon becomes the new normal.
Making mealtimes fun
If your toddler is engaged and happy, they're more likely to eat the food on their plate. Try these ideas to keep family mealtimes light-hearted and interesting:
Serve food in interesting shapes and sizes – like pasta spirals or alphabet letters
Bring meals to life by arranging your toddler's plate into a fun face
Host an indoor picnic on the floor with a rug and snack to share
Try to be relaxed about mess – your toddler is likely to eat more if they're allowed to feed themselves
Give your toddler the chance to decide when they've had enough
Let's face it – toddlerhood can throw parents' lives into disarray. Whereas you may have once enjoyed civilised evening meals with your partner, you now find yourselves battling to be heard over the chatter and sing-song of a feeding toddler. Go with it if you can – it's all part of the joy (and challenge) of raising children.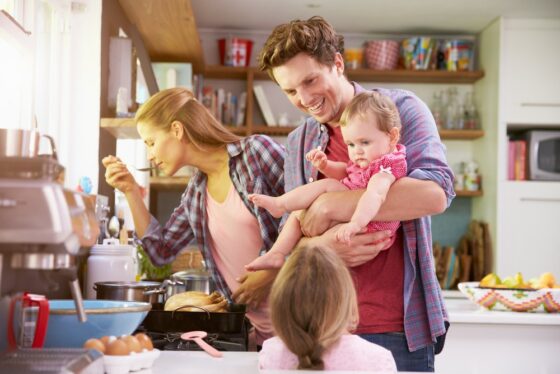 Want to know more? Call us on 1800 842 098 or Live Chat now.