Baby Essentials Checklist
Confused with all the choices in baby clothes? Here are the essential items you will need for your newborn and young baby.
From the moment you find out that you are pregnant you will probably find that you begin looking at baby clothes, lingering in the baby department in shops and worrying about which pram, car seat or cot is the safest for your baby.
It can be easy to get carried away when it comes to shopping for your new baby –particularly if it is your first baby – as everything is so new, cute and tiny.
However, as babies grow so quickly it is important to only get the essentials before they are born. Our article on setting up a nursery will help you get prepared with furniture and equipment, but here are some of the essentials that you will need to have your baby dressed, clean and ready for outings. This list could also be a useful starting point for friends or family who might be interested in buying a gift for your new baby.
Baby essentials:
Nappies, wipes and cotton wool
Basic nappy cream
Baby towels and face washers
Hat (woollen) – especially in cool to moderate climates. Babies lose the majority of their heat through their head and cannot shiver or sweat properly to regulate temperature.
Jumpsuits or onesies (at least five)
T-shirts, preferably with open necks for easier handling
Cardigans (at least two)
Burp cloths
At least two outfits for special occasions (after all, you will want to show your baby off)
Safe sleeping area (crib or sleeping pod and safe sleeping bags if you choose to use them)
Practical tips
Don't forget that newborn babies will go through many changes of clothes every day, because of spills and messy blow-outs. Make sure everything you purchase can be thrown in the washing machine for ease of use. Look for uncomplicated outfits designed for easy and fast nappy changes.
A good guide when dressing your baby is to dress baby in one more layer than you would be wearing.
Safe sleeping bags
Consider purchasing a safe sleeping bag for your baby, as recommended by Red Nose. A safe sleeping bag is the correct size for the baby with fitted neck and armholes with no hood. Research has shown that using a safe baby sleeping bag:
Reduces the risk of bedclothes covering baby's face
Delays baby rolling onto the tummy during sleep until baby is past the age of peak risk of sudden unexpected death in infancy (SUDI)
Promotes back sleeping as the zipper opens to the front
Keeps baby's temperature at a more constant level while sleeping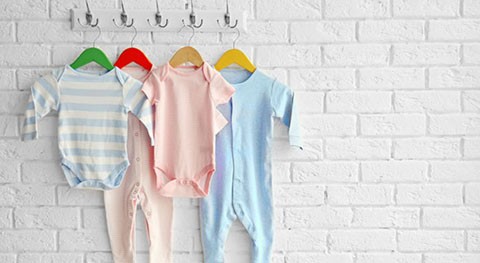 Want to know more? Call us on 1800 842 098 or Live Chat now.
Track your baby's development
Get month-by-month advice on your baby's development

Sign up