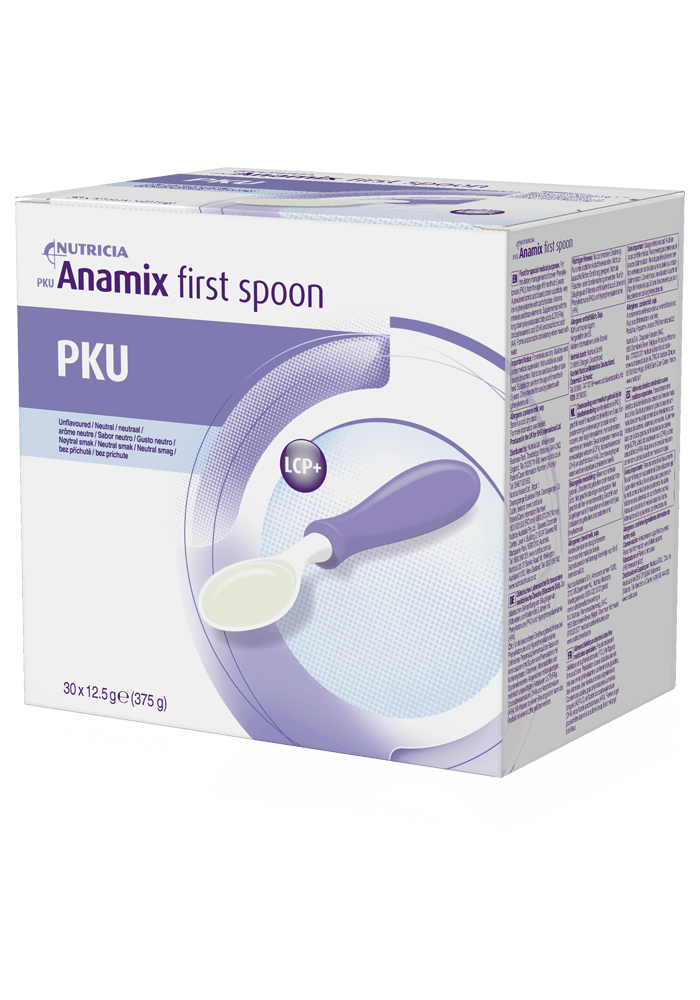 PKU Anamix First Spoon
Indications
For the dietary management of proven PKU in children aged 6 months to 5 years.
Order information
Contact Nutricia Customer Care 1800 889 480
| Size | Code | Units Per Carton |
| --- | --- | --- |
| 30 x 12.5g | 143182 | 1 |
Sample Requests
Please contact the Nutricia Metabolic Key account manager for your region.
Product Information
PKU Anamix First Spoon is a low volume, semi-solid (spoonable), very low phenylalanine, amino acid based, powdered protein substitute, containing essential and non-essential amino acids, carbohydrate, vitamins, minerals and trace elements. Supplemented with DHA (docosahexaenoic acid) and ARA (arachidonic acid).
Direction of Use
Pour the prescribed amount of powder into a clean bowl.
Gradually add the required amount of water whilst stirring with a clean feeding spoon.
Mix until desired thickness is achieved.
The suggested serving size is 10ml of water plus one sachet PKU Anamix First Spoon (12.5g).
The consistency of the product can be altered by adding more or less water as required.
It is recommended that cooled, boiled water be used when preparing the product for infants.
Storage
Store in a cool, dry place.
Prepare immediately prior to feeding and discard if not used within 1 hour.