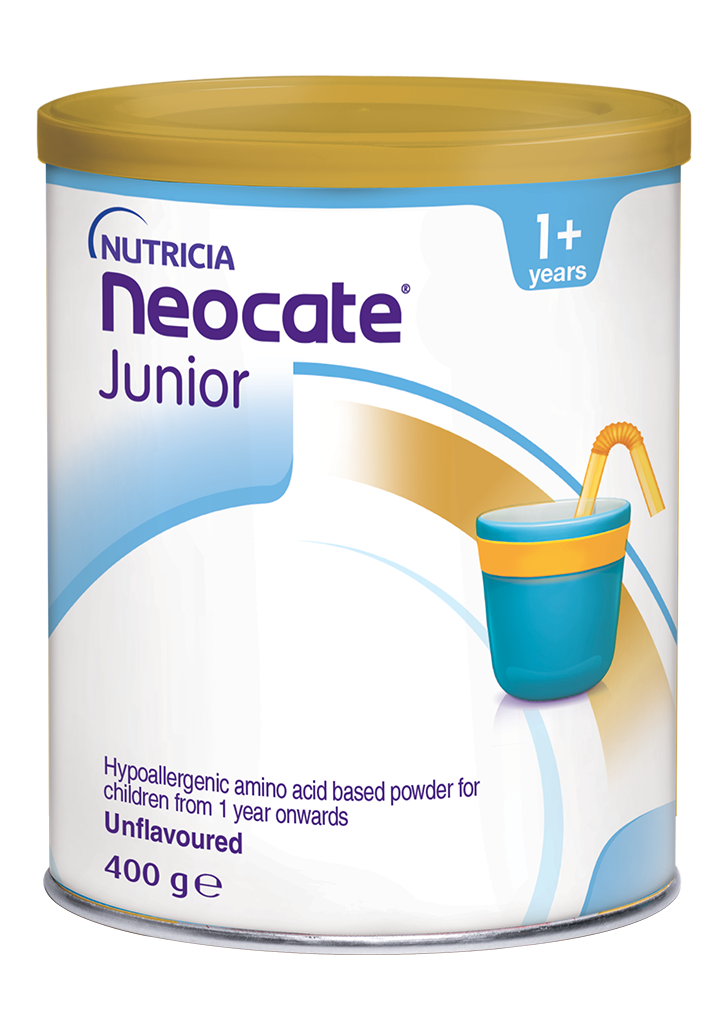 Neocate® Junior Unflavoured
Indications
For the dietary management of children over 1 year of age with cows' milk allergy, multiple food protein allergy, eosinophilic oesophagitis and other indications where an amino acid-based formula is recommended.
Order information
Contact Nutricia Customer Care 1800 889 480
Flavour 
Size 
Code 
Unit per carton

 

Unflavoured

 

400g

 

129765

 

6

 
Product Information
A nutritionally complete, amino acid based, powdered formula for children over 1 year of age. Available on PBS.
Features
Hypoallergenic.
Nutritionally complete, suitable as a sole source of nutrition.
Contains 35% medium chain triglycerides (MCT).
Milk and soy protein free.
Unflavoured – great tasting amino acid formula*.
Flexible concentration to meet different requirement.
*Data on file, May 2016 & January 2017
Important Notice
For enteral use only, not for parenteral use.
If using as a tube feed, hang time should not exceed 4 hours.
Not suitable for infants under 1 year of age.
Suitable as a sole source of nutrition or as a supplement to the diet for children over 1 year of age.
Do not boil formula and do not use a microwave oven to prepare or warm formula.
Direction of Use
The quantity of feed should be determined by a clinician or dietitian only and is dependent on the age, body weight and medical condition of the patient.
Follow the preparation instructions as stated on the can.
Neocate® Junior is best served chilled.
Once reconstituted, refrigerate and consume within 24 hours. Shake or stir immediately before use.
One level scoop provides 7.3g powder.
-Standard concentration: (1kcal/ml, 21.1%w/v): Add 1 level scoop (7.3g powder) of Neocate Junior to 30ml of warm or cool water to yield a final volume of 35ml.-Lower concentration: (0.69kcal/ml, 14.5%w/v): Add 2 scoops (14.6g powder) of Neocate Junior to 90ml of warm or cool water to yield a final volume of 100ml.-Higher concentration: (1.26kcal/ml, 26.5%w/v): Add 4 scoops (26.5g powder w/v): Add 4 scoops (29.2g powder) of Neocate Junior to 90ml of warm or cool water to yield a final volume of 110ml.
Storage
Store unopened cans in a cool, dry place.
Once opened, reseal can and store in a cool, dry place (not a refrigerator) and use within 4 weeks.
Feeding Guide
| Scoops | Water(ml) | Approximate total volume (ml) |
| --- | --- | --- |
| 1 (7.3g) | 30 | 35 |
| 3 (21.9g) | 90 | 105 |
| 10 (73g) | 300 | 350 |
Nutritional Information
Average contents
Per 100g
Per 100ml*
NUTRITION INFORMATION

Energy

1992 kJ
420 kJ

475 kcal
100 kcal

Protein Equivalent

13.3 g
2.8 g

11.2 %E

Carbohydrates

56 g
11.8 g

47.2 %E

Sugars

5 g
1.1 g

as Lactose

0 g
0 g

Total Fat

22 g
4.6 g

41.6 %E

Saturates

9.4 g
2 g

of which MCT

7.4 g
1.6 g

Monounsaturates

7.7 g
1.6 g

Polyunsaturates

4 g
0.84 g

of which LA

3608 mg
761 mg

of which ALA

358.7 mg
76 mg

ω6:ω3 ratio

10:1

Fibre

0 g
0 g
MINERALS

Sodium

285 mg
60.1 mg

12.4 mmol
2.6 mmol

Potassium

546 mg
115 mg

14 mmol
2.9 mmol

Calcium

428 mg
90.3 mg

Phosphorus

309 mg
65.2 mg

Magnesium

66.5 mg
14 mg

Chloride

437 mg
92.2 mg

Ca:P ratio

1.4:1
VITAMINS

Vitamin A

214 μg-RE
45.2 μg-RE

Vitamin D

6.2 μg
1.3 μg

Vitamin E

6.7 mg-α-T.E
1.4 mg-α-T.E

Vitamin K

19 μg
4 μg

Vitamin C

47.5 mg
10 mg

Thiamin

0.48 mg
0.1 mg

Riboflavin

0.95 mg
0.2 mg

Niacin

9 mg NE
1.9 mg NE

Vitamin B~6~

0.48 mg
0.1 mg

Folic acid

71.3 μg
15 μg

Vitamin B~12~

1.2 μg
0.25 μg

Biotin

14.3 μg
3 μg

Pantothenic Acid

1.9 mg
0.40 mg
TRACE ELEMENTS

Iron

5.7 mg
1.2 mg

Zinc

5.2 mg
1.1 mg

Manganese

290 μg
60 μg

Copper

480 μg
100 μg

Iodine

71.3 μg
15 μg

Molybdenum

21.4 μg
4.5 μg

Selenium

15.2 μg
3.2 μg

Chromium

7.6 μg
1.6 μg
OTHER

Choline

95 mg
20 mg

Inositol

26.1 mg
5.5 mg

Osmolality

600 mOsmol/kgH₂O
*At the recommended concentration of 21.1% w/v
Abbreviations:
MCT – Medium Chain Triglycerides
LA – Linoleic Acid
ALA – Alpha Linoleic Acid
Ingredients
Dried Glucose Syrup, Refined Vegetable Oil (Medium Chain Triglycerides (Palm Kernel and/or Coconut Oil), High Oleic Sunflower, Canola, Sunflower), L-Serine, L-Glutamine, Maltodextrin, Glycine, L-Alanine, Tripotassium Citrate, L-Leucine, L-Lysine Acetate, L-Threonine, L-Tyrosine, Calcium Phosphate Dibasic, Emulsifier (E472c), L-Valine, L-Isoleucine, L-Proline, Trisodium Citrate, Magnesium Hydrogen Phosphate, Sodium Chloride, L-Cystine, L-Histidine, L-Phenylalanine, Calcium Chloride, L-Methionine, L-Arginine, Choline Bitartrate, L-Tryptophan, Tricalcium Citrate, L-Ascorbic Acid, Antioxidants (Sunflower Lecithin, Ascorbyl Palmitate), Taurine, M-Inositol, Ferrous Sulphate, L-Carnitine, Zinc Sulphate, DL-alpha Tocopheryl Acetate, Nicotinamide, Calcium D-Pantothenate, Copper Sulphate, Riboflavin, Manganese Sulphate, Thiamin Hydrochloride, Pyridoxine Hydrochloride, Vitamin A Acetate, Potassium Iodide, Folic Acid, Sodium Molybdate, Chromium Chloride, Sodium Selenite, Phytomenadione, D-Biotin, Cholecalciferol, Cyanocobalamin.
BREAST MILK IS BEST FOR BABIES: Professional advice should be followed before using an infant formula. Introducing partial bottle feeding could negatively affect breast feeding. Good maternal nutrition is important for breast feeding and reversing a decision not to breast feed may be difficult. Infant formula should be used as directed. Proper use of an infant formula is important to the health of the infant. Social and financial implications should be considered when selecting a method of feeding. Infant Formula product for special dietary use to be used under medical supervision. This product is not suitable for general use.FOR HEALTHCARE PROFESSIONALS ONLY.