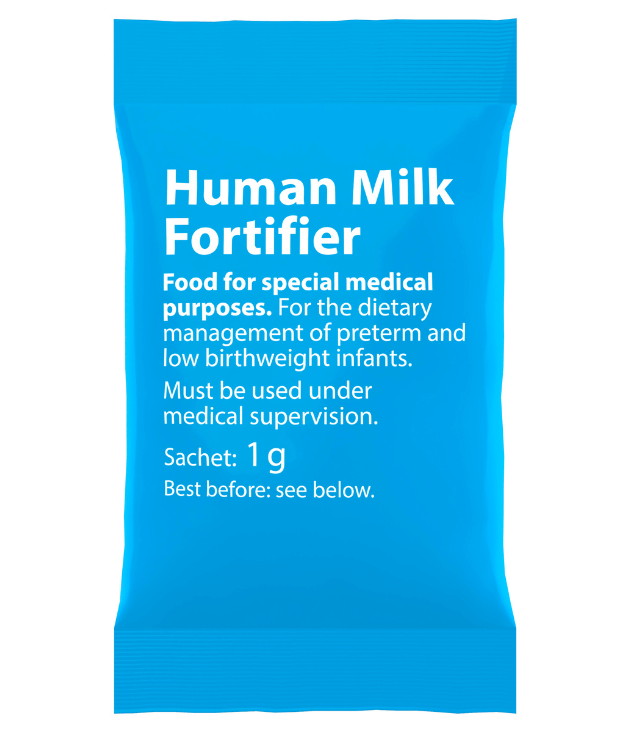 Nutricia® Human Milk Fortifier
Indications
Premature or low birth weight infants requiring nutritional supplementation.
Order information
Contact Nutricia Customer Care 1800 889 480
Nutritionally upgraded extensively hydrolysed human milk fortifier for preterm or low birthweight infants.
Upgraded 1g sachet enables fortification of smaller volumes of breast milk. Preparation per 100ml ready to feed: 100ml of human milk (37°C) and 4 sachets (4g).​
Helps to meet the specific needs of preterm infants
Multi-component human milk fortifier, based on extensively hydrolysed protein.​

The European Society of Paediatric Gastroenterology and Nutrition (ESPGHAN) recommends a multicomponent fortifier to enhance the nutrient intake of human milk and promote the growth of preterm infants.1​
When preterm transitional breast milk is supplemented with Nutricia® Human Milk Fortifier, macronutrient levels are aligned with ESPGHAN guidelines.1
✓ Provides additional energy (4.3kcal or 18.1kJ per 1g sachet) from protein (0.3g per 1g sachet), fat (0.2g per 1g sachet) and carbohydrate (0.4g per 1g sachet), including a protein to energy ratio of 3.4g/100kcal which is within the range of 2.8-3.6/100kcal by ESPGHAN.
✓ Contains vitamins, minerals, trace elements, and essential fatty acids (including 1.2g docosahexaenoic acid (DHA) per 1g sachet).
✗ The formulation contains minimal iron (0.07g per sachet) to enable for tailored iron supplementation as appropriate for the individual needs of each infant.
Nutritional information
Full ingredients list and nutritional information available on Factsheet.
References
ESPGHAN = European Society for Paediatric Gastroenterology, Hepatology and Nutrition.
Embleton et al. J Pediatr Gastroenterol Nutr. 2023 Feb 1;76(2):248-268​
Food for Special Medical Purpose for use under medical supervision. For the dietary management of preterm or low birthweight infants. Not a sole source of nutrition.
BREAST MILK IS BEST FOR BABIES: Professional advice should be followed before using an infant formula. Introducing partial bottle feeding could negatively affect breast feeding. Good maternal nutrition is important for breast feeding and reversing a decision not to breast feed may be difficult. Infant formula should be used as directed. Proper use of an infant formula is important to the health of the infant. Social and financial implications should be considered when selecting a method of feeding. FOR HEALTHCARE PROFESSIONALS ONLY