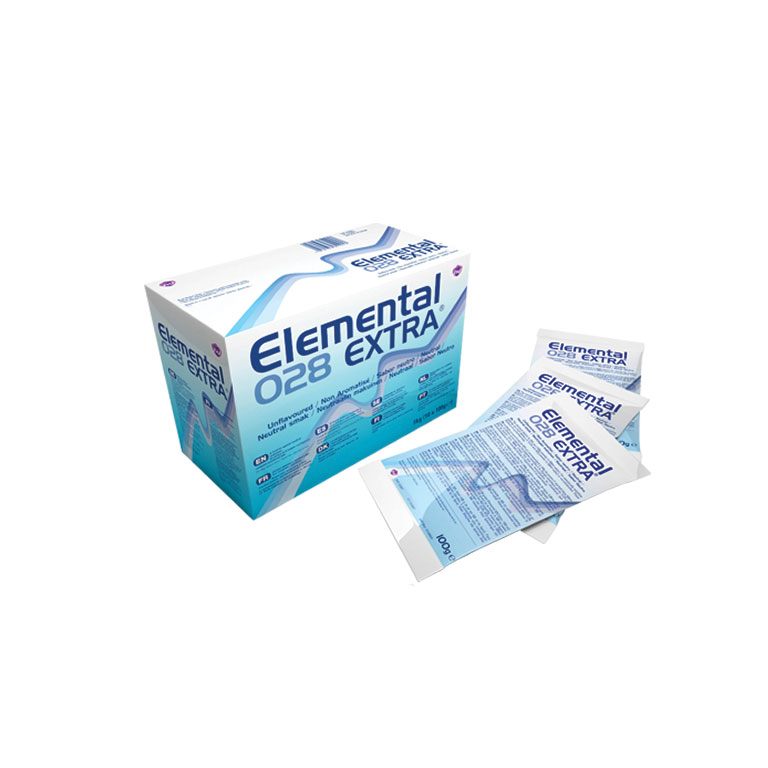 Elemental 028 Extra Powder
Indications
Elemental 028 Extra Powder can be used in children from one year of age and adults as a sole source of nutrition or a supplement for the dietary management of conditions where there is severe impairment of the gastrointestinal tract such as:
Crohn's disease

Short bowel syndrome
Intractable malabsorption
Bowel fistulae
Radiation enteritis
Order information
Contact Nutricia Customer Care 1800 889 480
| Product | Code | Presentation |
| --- | --- | --- |
| Elemental 028 Extra Powder | 52896 | 10x100g sachet |
Product Information
A nutritionally complete powder based on amino acids for use in conditions where there is severe impairment of the GI tract. 
Features
0.89kcal/ml (20% w/v concentration).
2.5g protein equivalent per 100ml (20% w/v).
Contains essential and non-essential amino acids, carbohydrate, fat, vitamins, minerals and trace elements.
Individual 100g serve sachets.
Unflavoured, flavouring may be added as required.
Important Notice
Not suitable for use in infants under one year of age.
Not suitable as a sole source of nutrition for children under 5 years of age.
Not for parenteral use.
Direction of Use
The quantity of feed should be determined by a clinician or dietitian only and is dependent on the age, bodyweight and medical condition of the patient.

The recommended feed concentration is 20% w/v i.e. 100g powder made up to 500ml with water. A lower concentration may initially be required until recommended concentration is tolerated.

Elemental 028 Extra is best served as a chilled drink and can be flavoured with appropriate flavourings.

Once reconstituted, store in a refrigerator and use within 24 hours.
Storage
Store in a cool, dry place.
Once sachet is opened, store in an airtight container and use within 2-3 days.
Unopened shelf life is 24 months.
Nutritional Information
Average contents
Per 100g
Per 100ml*
NUTRITION INFORMATION

Energy

443 kcal
89 kcal

1871 kJ
374 kJ

Protein equivalent

12.5 g
2.5 g

Carbohydrate

59 g
11.8 g

—

Sugars

5.3 g
1.1 g

—

as Lactose

nil g
nil g

Fat

17.5 g
3.5 g

—

Saturates

6.7 g
1.3 g

—

Monounsaturates

7.4 g
1.5 g

—

Polyunsaturates

2.4 g
0.5 g

—

% LCT

65 %

—

% MCT

35 %

—

ω6 / ω3 ratio

4:1

Fibre

nil added g
nil added g
MINERALS

Sodium

305 mg
61 mg

13.3 mmol
2.7 mmol

Potassium

466 mg
93.2 mg

11.9 mmol
2.4 mmol

Calcium

245 mg
49 mg

Phosphorus

200 mg
40 mg

Magnesium

81.6 mg
16.3 mg

Chloride

333 mg
66.6 mg

Ca:P ratio

1.2:1
VITAMINS

Vitamin A

330 ug-RE
66 ug-RE

Vitamin D

2.5 μg
0.5 μg

Vitamin E

6.1 mg-α-T.E
1.2 mg-α-T.E

Vitamin K

25 μg
5 μg

Vitamin C

28.3 mg
5.7 mg

Thiamin

0.6 mg
0.12 mg

Riboflavin

0.6 mg
0.12 mg

Niacin

9 mg NE
1.8 mg NE

Vitamin B~6~

0.8 mg
0.16 mg

Vitamin B~12~

1.7 μg
0.34 μg

Folic Acid

83.3 μg
16.7 μg

Pantothenic Acid

2 mg
0.4 mg

Biotin

18 μg
3.6 μg
TRACE ELEMENTS

Iron

4.2 mg
0.84 mg

Zinc

4.2 mg
0.84 mg

Manganese

0.6 mg
0.12 mg

Copper

400 μg
80 μg

Iodine

33.3 μg
6.7 μg

Molybdenum

33.3 μg
6.7 μg

Selenium

15 μg
3 μg

Chromium

15 μg
3 μg
OTHER

Choline

91.6 mg
18.3 mg

Inositol

9.2 mg
1.8 mg

Osmolality

502 mOsmol/kgH₂O
*When prepared at recommended concentration 20% w/v (i.e. 100g powder made up to 500ml with water)
Ingredients
Dried glucose syrup, refined vegetable oil (medium chain triglycerides (palm kernel and/or coconut oil), canola oil, hybrid safflower oil), L-lysine Laspartate, L-glutamine, L leucine, L-phenylalanine, L-arginine, trisodium citrate, L-proline, calcium phosphate dibasic, L-valine, glycine, L-isoleucine, L-threonine, N-acetyl L-methionine, L-histidine, emulsifiers (E471, E472e), Lserine, tripotassium citrate, L-alanine, magnesium acetate, potassium chIoride, L-tryptophan, choline bitartrate, dipotassium hydrogen phosphate, L-tyrosine, sodium chloride, calcium chloride, L-cystine, taurine, L-ascorbic acid, stabiliser (E405), L carnitine, ferrous sulphate, zinc sulphate, DL-alpha tocopheryl acetate, M-inositol, nicotinamide, calcium Dpantothenate, manganese sulphate, copper sulphate, pyridoxine hydrochloride, thiamin hydrochloride, riboflavin, vitamin A acetate, folic acid, sodium molybdate, chromium chloride, potassium iodide, sodium selenite, vitamin K1, D-biotin, vitamin D3, cyanocobalamin.
FOR HEALTHCARE PROFESSIONALS ONLY.