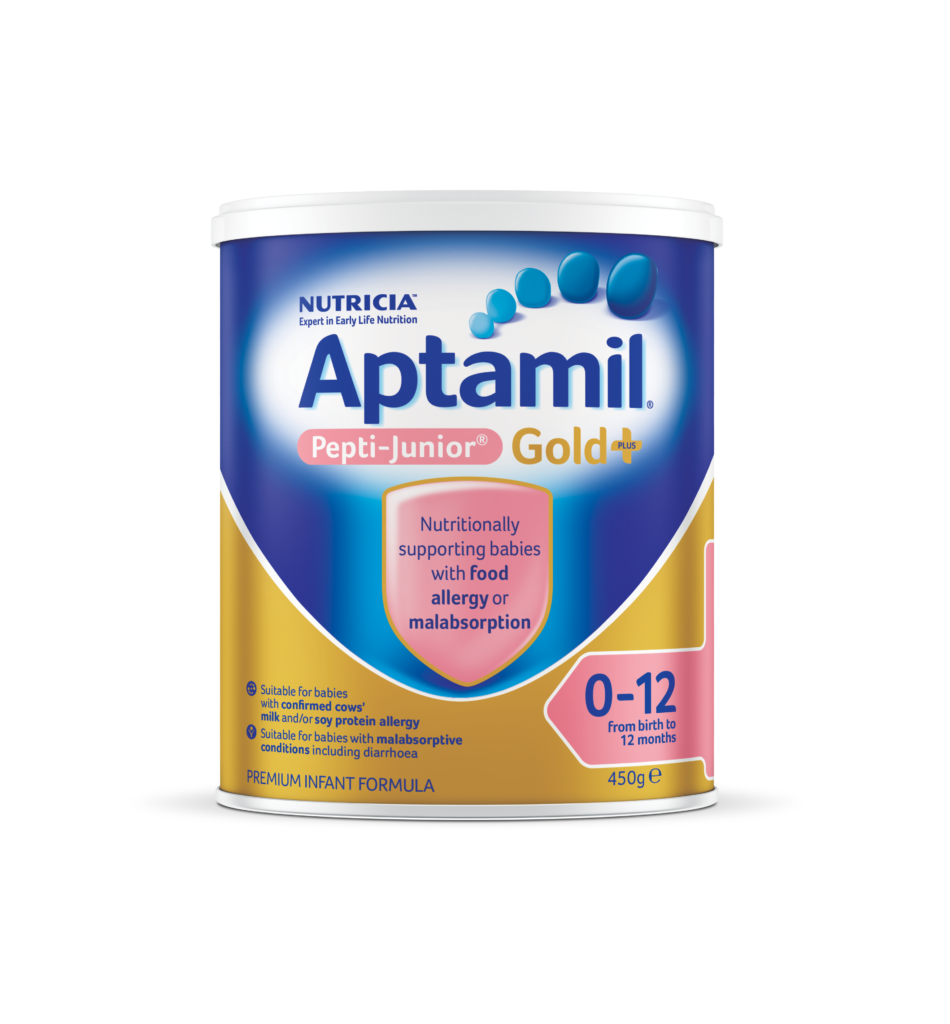 Aptamil® Gold + Pepti-Junior®
Indications
Suitable for infants with malabsorption and/or with confirmed allergy to cows' milk and/or soy protein when partial or total breast milk substitute is required.
Order information
Contact Nutricia Customer Care 1800 889 480
| Size | Code | Units per carton |
| --- | --- | --- |
| 450g | 57240 | 24 |
Product Information
Aptamil® Gold+ Pepti-Junior® is a premium, extensively hydrolysed infant formula  (eHF) with short chain peptides, specific fat blend with medium chain triglycerides (MCT), omega 3 and omega 6 LCPs#, and low osmolality. Available on PBS.
1.

Improved

 

digestion

/

tolerance
Improved
 absorption and 
digestion
due
 to 
the
presence
of:
An easy to digest fat blend including MCT

.

##1

Low osmolality.

<0.1g lactose per 100mL of feed.
Low allergenicity with intact cows' milk protein broken down to small hypoallergenic peptides (extensively 

hydrolysed

). This makes

Aptamil

®

 Gold+ 

Pepti

-Junior® 

 suitable for infants with food allergies and intolerances such as cows' milk and soy protein allergy.

 

An extensively 

hydrolysed

 formula (

eHF

) such as 

Aptamil

®

 Gold+ 

Pepti

-Junior

® is recommended as the first choice for infants under 6 months of age, for treating mild to moderate cows' milk protein allergy.2,3

 

An 

eHF

 provides effective management of up to 90% of infants with uncomplicated mild to moderate cows' milk protein allergy.

4,5

If 

treatment with this initial formula is not successful, use of an amino acid formula (AAF) such as 

Neocate

is recommended.

2,4
3.

Nutritionally complete for infants 0–6 months and suitable for use in a mixed diet for infants 6-12 months.
Vitamins and minerals to support infant growth and development.

 

Omega 3 DHA to support brain and eye development. 6-8
Contraindications for use
Allergy to extensively hydrolysed cows' milk formula, severe (anaphylactic) cows' milk protein allergy, galactosemia and primary lactose intolerance.
Direction of Use
Wash hands before preparing the feed. Clean and then sterilise all the utensils by submerging bottles and teats in water and boiling for 5 minutes, or using an approved steriliser.
Boil safe drinking water and allow to cool. Measure the required volume of water into a sterilised feeding bottle.
Use only the enclosed scoop. Fill the scoop lightly and level off using the built-in leveler. Avoid compacting powder.
Always add one level scoop of powder for each 30mL of water. Stir or shake briskly to dissolve the powder.
Test temperature on wrist before feeding. Feed immediately (do not store). Discard unfinished feeds.
Prepare each bottle separately. For all brands of formula, it is safer to use immediately after they are prepared. Product is packed by weight, not volume. Some settling of the powder may occur during transportation and distribution.
Storage
Store in a cool, dry place.
Use by the date on bottom of the container.
After opening, keep container airtight and use contents within four weeks.
Some settling of the powder may occur.
Feeding Guide
| Age | Cooled boiled water | Level scoops of powder* | Number of feeds per day |
| --- | --- | --- | --- |
| Up to 2 weeks | 60mL | 2 | 7 – 8 |
| 2 weeks to 1 month | 90mL | 3 | 6 |
| 1 to 2 months | 150mL | 5 | 5 – 6 |
| 2 to 4 months | 210mL | 7 | 5 |
| 4 to 6 months | 240 mL | 8 | 4 – 5 |
| 6 to 9 months | 240 mL | 8 | 3 – 5 |
| 9 to 12 months | 240 mL | 8 | 3 – 4 |
| 12 to 24 months | 240 mL | 8 | 2 – 3 |
*1 scoop = 4.3g of powder. NOTE: 1 scoop of powder added to 30mL of water yields approximately 33.3 mL of formula. This feeding guide is a general guide ONLY.
Allergen and Cultural Information
Contains cows' milk and fish.
Nutritional Information
Average contents
Per 100 mL
NUTRITION INFORMATION

Energy

277 kJ

66 kcal

Protein

1.8 g

Whey

100 %

Carbonhydrate

6.8 g

Lactose

<0.1 g

Total Fat

3.5 g

—

Saturated

1.9 g

—

medium chain triglycerides

1.6 g

Omega LCPUFAs<sup>a</sup>

Arachidonic Acid (AA)

6.7 mg

Docosahexaenoic Acid (DHA)

6.7 mg
MINERALS

Calcium

50 mg

Potassium

65 mg

Phosphorus

28 mg

Sodium

18 mg

Magnesium

5.1 mg

Chloride

40 mg

Iron

0.77 mg

Zinc

0.50 mg

Copper

40 μg

Manganese

31 μg

Selenium

1.8 μg

Iodine

12 μg
VITAMINS

Vitamin A

52 μg-RE

Vitamin D

1.3 μg

Vitamin E

1.0 mg

Vitamin K

4.7 μg

Thiamin (B~1~)

50 μg

Vitamin B~2~

99 μg

Vitamin B~6~

40 μg

Vitamin B~12~

0.18 μg

Niacin (B~3~)

0.43 mg

Folate

8.9 μg

Vitamin C

9.3 mg

Biotin

1.7 μg

Pantothenic Acid (B~5~)

0.33 mg
OTHERS

Choline

10.0 mg

Taurine

5.3 mg

Inositol

3.3 mg

L-carnitine

1.1 mg
NUCLEOTIDES

Cytidine-5′-monophosphate

1.1 mg

Uridine-5′-monophosphate

0.77 mg

Adenosine-5′-monophosphate

0.67 mg

Inosine-5′-monophosphate

0.45 mg

Guanosine-5′-monophosphate

0.23 mg
aLong chain polyunsaturated fatty acids
Ingredients
Glucose syrup, hydrolysed whey protein concentrate (contains milk), medium chain triglycerides, vegetable oils (antioxidant (ascorbyl palmitate, citric acid)), maltodextrin, emulsifier (citric acid ester of mono- and diglycerides, sunflower lecithin)), omega LCPUFAs (contains fish, antioxidant (mixed tocopherols, ascorbyl palmitate)), choline chloride, taurine, inositol, L-carnitine.
Minerals: Potassium, calcium, chloride, phosphorus, sodium, magnesium, iron, zinc, copper, iodine, manganese, selenium.
Vitamins: Vitamins (A, B1, B2, B3, B5, B6, B12, C, D3, E, K1), folic acid, biotin.
Nucleotides: Cytidine-5'-monophosphate, uridine-5'-monophosphate, adenosine-5′-monophosphate, inosine -5′-monophosphate, guanosine-5′-monophosphate.
Aptamil® Gold+ Pepti-Junior® Infant Formula is based on hydrolysed cows' milk protein.
References
Bach et al. Am J Clin Nutr 1982; 36:950-962.
Kemp A et al. MJA 2008;188(2):109–112.
ASCIA Information for patients, consumers and carers. Cows Milk Allergy 2019.
Vandenplas Y et al. Arch Dis Child 2007;92:902–908.
Koletzko B et al. J Perinat Med 2008; 36:5–14.
Birch et al. Am J Clin Nutr 2010; 91: 848–859.
Innis S et al. J Pediatr Gastroenterol Nutr 2009; 48:S16–S24
## MCT/LCT = Medium Chain Triglycerides/Long Chain Triglycerides.
# LCP =  Long chain polyunsaturated fatty acids
BREAST MILK IS BEST FOR BABIES: Professional advice should be followed before using an infant formula. Introducing partial bottle feeding could negatively affect breast feeding. Good maternal nutrition is important for breast feeding and reversing a decision not to breast feed may be difficult. Infant formula should be used as directed. Proper use of an infant formula is important to the health of the infant. Social and financial implications should be considered when selecting a method of feeding. Infant Formula product for special dietary use to be used under medical supervision. This product is not suitable for general use.
FOR HEALTHCARE PROFESSIONALS ONLY.