COUNTDOWN TILL EVENT BEGINS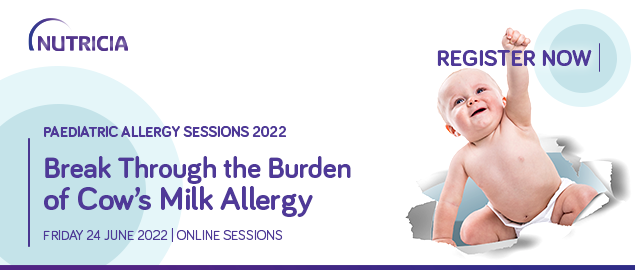 Welcome to our Paediatric Food Allergy Sessions
Nutricia is committed to delivering the latest evidence and guidance on paediatric allergy so please join us for Break through the burden of Cow's Milk Allergy (CMA).
We'll discuss CMA and the relevance of, immunity and infections, under and overdiagnosis, gut modulation, plant-based formulas and the impact of the Covid pandemic via interactive sessions with leading experts.
Our free educational event, online, features a 2-hour plenary session with international speakers and live Q&As with our local multidisciplinary panel of experts.
Online plenary sessions
1300-1510 AEST
1500-1710 NZST
Download the agenda
View the details on times, topics and speakers for the online sessions.
Important event update
The University of Sydney in-person event has been cancelled. 
Our online plenary sessions will go ahead as planned on Friday 24 June from 1300-1510 AEST. 
 Due to the high demand for the virtual sessions, the Practical Interactive Workshops offered at the in-person event will be available online at a future date in 2022. 
CO-HOSTS
Local Multidisciplinary Experts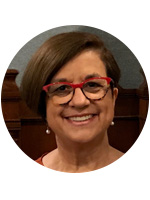 Maria Said |

CEO of Allergy & Anaphylaxis Australia (A&AA); Registered Nurse; Co-chair of the National Allergy Strategy
Learn more
Maria Said is the Chief Executive Officer of Allergy & Anaphylaxis Australia (A&AA). She is a Registered Nurse and is Co-chair of the National Allergy Strategy.
Maria has been a member of A&AA since 1993 when her son was diagnosed with severe atopy including food allergy. She became the National President of the organisation in 1999. Maria is an advocate for individuals who live with allergic disease and shares information on the mission of the organisation and the consumer perspective with teaching and health professionals, the food industry, government, and the community.
Maria is an associate member of the Australasian Society of Clinical Immunology and Allergy (ASCIA). As CEO of A&AA, Maria has been called as an expert witness in several coronial inquests. The unfolding of these investigations has resulted in change.
Maria has more than 30 years of experience in the day-to-day management of allergic disease and is nationally and internationally recognised and respected.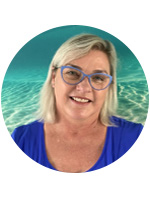 Dr Kathy Beck | Paediatric Dietitian; Chair ASCIA Dietitian Committee
Learn more
Kathy Beck is an Accredited Practising Dietitian working in private practice in Brisbane with a special interest in paediatric food allergy. Kathy is a founding member of Child Health in Life and Disease Dietetics (ChildD) and the original National Paediatric Training course with Dietitians Australia in 2016.
Kathy's passion is supporting families with infants and children living with food allergy to have a better quality of life when attempting to avoid allergens and adequately substitute to achieve a nutritionally adequate intake.
Kathy is the Chair of the Dietitian Committee of the Australasian Society of Clinical Immunologists and Allergists (ASCIA) and works collaboratively with other ASCIA members to provide evidence-based, up-to-date practical and educational resources for dietitians and families living with food allergy.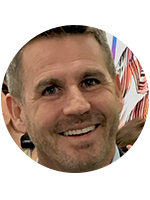 Prof Pete Smith  |

Allergist
Learn more
Dr Smith trained in Paediatrics before doing a PhD in Molecular Immunology at Flinders University, Adelaide. He worked as a consultant in Allergy at Great Ormond St Hospital, London before returning to Australia in 2002. He is a Professor in Clinical Medicine at Griffith University and clinical lead in mucosal immunology and neuroimmunology.
He holds a chair in Allergy at OPRI in Singapore. He is a member of the European Academy of Allergy and Clinical Immunology, the American Academy of Asthma Allergy and Immunology, ASCIA and the World Allergy Organisation and has worked on committees in each of these organisations.
He is an invited member of the EAACI/GA2LEN working parties on food allergy and anaphylaxis committees in the last 2 years and has been a longstanding member of the EAACI nutrition working party. He established Queensland Allergy Services in 2002 and Allergy Medical in 2011.
Dr Elizabeth Pickford |

Paediatric Allergist
Learn more
Consultant Paediatric Allergist, Centre for Paediatrics, Macquarie University Hospital Clinic Clinical Lecturer, Faculty of Medicine and Health Sciences, Macquarie University

Member Fellowship Committee, Royal Australasian College of Physicians

Member, Divisional Council, Paediatrics and Child Health Division, Royal Australasian College of Physicians

Member ASCIA Paediatric Committee

Member ASCIA Anaphylaxis Committee
INTERNATIONAL SPEAKERS
Pre-recorded Online Sessions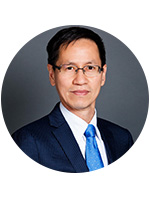 Prof Gary Wong | Professor and Honorary Consultant in the Department of Paediatrics, The Chinese University of Hong Kong
Learn more
Professor Gary Wong obtained his undergraduate medical education from the University of Alberta, Canada. He subsequently received fellowship training at the University of British Columbia, and Children's Hospital of British Columbia and Visiting Fellowship at the Children's Hospital in Munich, Germany.
Dr Wong's main research interests are the treatment, control and prevention of allergic conditions including asthma, food allergy, wheezing disorders and respiratory infections in children. He has published over 250 indexed original articles and reviews in his field.
Other than being the current President of the Hong Kong Institute of Allergy, he is the Immediate Past President of the Asia-Pacific Academy of Pediatric Allergy, Respirology and Immunology (APAPARI) and one of the current Board of Directors of the World Allergy Organization.
He has been one of the Board of Directors of the Global Initiative for Asthma (GINA) and one of the GINA Assembly members since 2008. He has extensive experience in many editorial boards of top academic journals including the role of Chief Editor, Associate Editor and Board Member.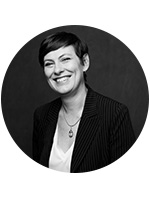 Dr Rosan Meyer | Paediatric Dietitian; Honorary Senior Lecturer, Imperial College, London & KU Leuven
Learn more
Rosan completed her degree in Dietetics in South Africa and specialised in paediatric nutrition in the UK. In 2004, she finished her MSc in Paediatric Nutrition and in 2008 her PhD at Imperial College London.
She was the principal research dietitian at Great Ormond Street Hospital for Children until December 2015, leading a project on the impact of gastrointestinal food allergies on children and their families. Following this, she worked with the allergy team at St. Thomas Hospital as Research Dietitian until 2018. In addition, she has a busy paediatric dietetic practice specialising in food allergy, feeding difficulties, and faltering growth in London. She has published numerous articles on food allergy and feeding difficulties and is particularly interested in growth in food allergy, ARFID and has recently co-authored the DPG Paediatric Dietetic Pocket Guide.
She is currently module leader for the Food Hypersensitivity Module that forms part of the MSc in Allergy at Imperial College London and is Honorary Senior Lecturer in Paediatrics at the same university. She is also visiting Professor at KU Leuven, Belgium, on their MSc in Deglutology (swallow disorders). She is the chair of the European Section of the International Network for Diet and Allergy, secretary of the Allied Health and Primary Care Section of EAACI, member of several EAACI task forces on food allergy and trustee of ARFID Awareness UK.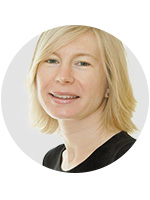 Dr Rebecca Stratton |

Honorary Research Fellow, University of Southampton; Medical Director at Nutricia
Learn more
Dr Rebecca Stratton is a dietitian and scientist who has been working in medical nutrition research for over 25 years at the Universities of Cambridge, Southampton and at Nutricia. She is a leading researcher in the field of nutrition support across the ages, with over 250 publications.
She continues to lead an extensive number of clinical trials as well as systematic reviews and meta-analyses to investigate and improve the evidence base for the use of medical nutrition across a wide variety of patient groups and conditions, including cow's milk allergy, children with faltering growth, inherited metabolic conditions, and adults with acute and chronic diseases.  She has recently led a programme of research looking at the evidence for improving the management of cow's milk allergy, an area that Rebecca has developed a real passion for as a parent of a child who had a severe form of allergy.
She is a faculty member of ESPEN, the European Society for Clinical Nutrition and Metabolism and Chairs the Malnutrition Action Group of the British Association for Parenteral and Enteral Nutrition (BAPEN).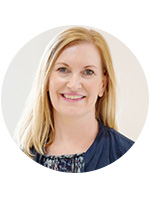 Dr Vicki McWilliam | Senior Allergy Dietitian, The Royal Children's Hospital; Honorary Senior Research Fellow, University of Melbourne
Learn more
Dr Vicki McWilliam is a clinical dietitian and researcher at the Royal Children's Hospital/Murdoch Children Research Institute in Melbourne and Honorary Senior Research Fellow in the Dept of Paediatrics of the University of Melbourne, Australia.
Vicki is a member of the Australasian Society of Clinical Immunology and Allergy (ASCIA) and a past chair of the Dietitians Committee. She is a member of the European Academy of Allergy and Clinical Immunology (EAACI) and an Advanced Accredited Practising Dietitian member of the Dietitians Association of Australia (DAA).
Vicki's expertise in food allergy sees her involved in the clinical management of families with food allergies, teaching and training, resource development, industry consultation and food allergy management within food service. She has presented her work at several national and international conferences and has numerous peer-reviewed publications.
Vicki's research interest is developing and initiating clinical trials that aim to improve food allergy management and treatment for patients and families.
Register to attend our Paediatric Allergy Sessions 2022.
View our online sessions on Friday 24 June.
Frequently Asked Questions
For HCP use only – not for distribution to the general public.
BREASTMILK IS BEST FOR BABIES: Professional advice should be followed before using an infant formula. Partial bottle feeding could negatively affect breastfeeding. Good maternal nutrition is important for breastfeeding and reversing a decision not to breastfeed may be difficult. Infant formula should be used as directed. Improper use of infant formula may affect the health of the baby. Social and financial implications should be considered.
The details of this event may be subject to change pending advice from health authorities regarding COVID-19. If you have registered, you will be notified via email with any updates to this event.
Link copied!
Friday, 24 June 2022
1pm- 3:10pm AEST (Online)