How to safely prepare Neocate
Key takeaways
Safe preparation of Neocate is important

Prepare Neocate only as you need it

Carefully follow instructions step by step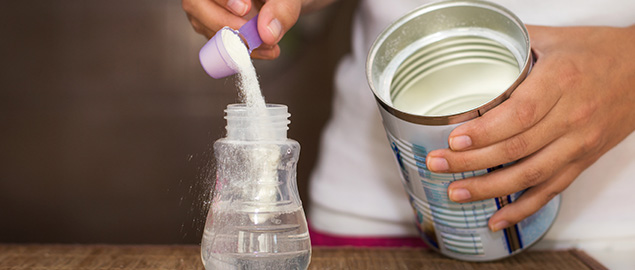 When preparing Neocate for your little one, it is important that you follow the preparation instructions on the Neocate can carefully. 
It is always best to prepare Neocate only when you need it and start feeding immediately.  
Here are some tips for safely preparing Neocate: 
Always wash your hands before preparing the formula and ensure that formula is prepared in a clean area.

 

Before starting with the preparation, make sure that all your utensils (i.e., bottles, steriliser, teats etc) are thoroughly washed and sterilised – it is recommended that you wash all these items with hot soapy water before sterilisation. You can sterilise all utensils and bottles by boiling them for 5 minutes or using a steam steriliser. This is especially important if they have previously been used to make up another infant formula. Ideally, don't use them for anything else.

 

Boil fresh tap water and allow it to cool until lukewarm – to cool to a safe temperature allow the water to sit for 30 minutes so that it feels warm (not hot) to the wrist.

 

Ideally prepare only one bottle of formula at a time, just before feeding.

 

Pour the correct prescribed amount of cooled boiled water into a sterilised feeding bottle.

 

Always use the measuring scoop provided in the tin. The measuring scoop can slip into the powder, but can easily be retrieved using a clean, dry knife.  Do not use your hand.

 

Fill the scoop provided in the Neocate can and level off with a clean dry knife. Do not press the powder into the scoop and only use the scoop provided.

 

Add the prescribed number of level scoops of Neocate to the pre-measured water into the feeding bottle

 

Keep the scoop in the Neocate can when not in use – do not wash the scoop as this can introduce moisture into the can if not dried adequately.

 

Replace the cap on the feeding bottle and shake it until the powder dissolves.

 

Before feeding, check whether the formula temperature is correct by placing a few drops on your wrist. The temperature should feel just warm, but cool is better than too hot.

 

Formula that is remaining in the bottle after a feed is complete should be discarded.

 

A feed should not take longer than 1 hour – any formula that has been at room temperature for longer than 1 hour should also be discarded.

 

When the Neocate can has been finished, throw away the scoop with the can, to ensure that the correct scoop is used next time.

 
 Always remember
Powdered infant formula is not sterile.

 

Formula should not be warmed longer than 15 minutes prior to feeding.

 

Do not boil formula and do not use a microwave oven to prepare or warm/reheat formula.

 

Formula remaining in the bottle after one hour of feeding should be discarded.

 

Formula must not be re-warmed during feeding as excessive heating can cause nutrient loss and affect the taste.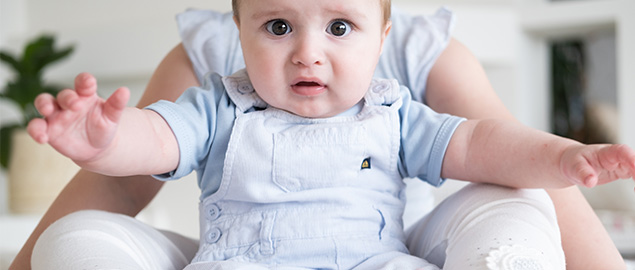 Getting your baby started on Neocate
How to get your baby started on Neocate for cows' milk protein allergy. Tips on getting your infant used to the new taste and smell of an amino acid formula.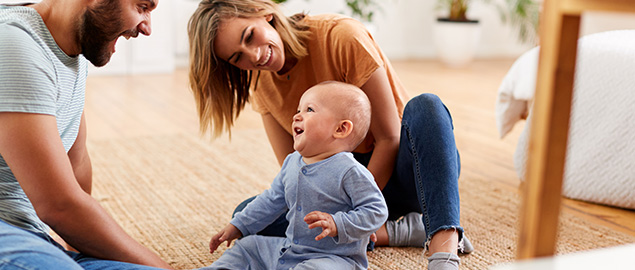 How long does it take for symptoms to improve on Neocate?
How many days before symptoms improve on Neocate? Cows' milk protein allergy symptoms can resolve in just 3 to 14 days.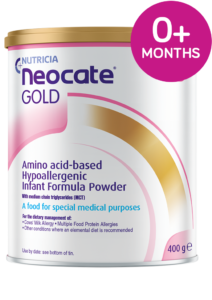 Neocate® Gold
A nutritionally complete, amino acid-based, powdered infant formula for special dietary use, with medium-chain triglycerides (MCTs).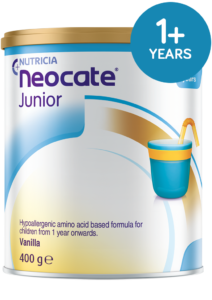 Neocate® Junior Vanilla
A nutritionally complete, amino acid based, powdered formula with prebiotic fibre for children over 1 year of age.
Meet our Careline experts
Our Nutricia Careline team of dietitians, nutritionists and midwives are here to help with any questions.