Demystifying cows' milk protein allergy
Cows' milk protein allergy (CMPA) affects 2% of infants (1 in 50) across Australia and New Zealand and presents with a broad range of symptoms, making diagnosis and management difficult.
1
-3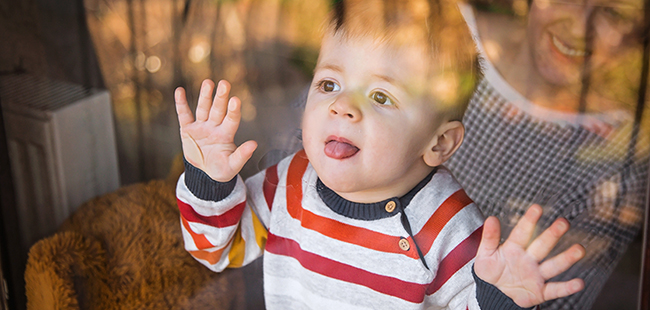 What should healthcare practitioners be looking out for and what are common misconceptions?
Food allergy is an abnormal immune response triggered by normally innocuous food protein antigens. Food allergies are broadly classified into those that are IgE mediated, and those that are non-IgE mediated.1–4 In CMPA, the allergic reaction is associated with the protein found in the cows' milk.5 
IgE-mediated allergy is usually rapid in onset (occurring within minutes and up to 2 hours following exposure) and may present as hives and rashes, swelling of the face, abdominal pain and vomiting, breathing difficulties or anaphylaxis. The immune cells involved are IgE antibodies. The nature of an IgE-mediated reaction is unpredictable and can vary in severity and presentation within an individual.1–4 
Non-IgE-mediated allergy includes proctocolitis, enteropathy, FPIES and eosinophilic oesophagitis, and primarily affects the gastrointestinal tract. Non-IgE-mediated reactions are generally T cell-mediated, delayed in onset (appearing after 2 hours or days following exposure), dose dependent and are commonly misdiagnosed as lactose intolerance or milk intolerance due to overlapping gastrointestinal symptoms, such as vomiting, diarrhoea, constipation or irritability.1,3,4 CMPA diagnosis should be considered in infants and children when presenting with two or more of the symptoms listed below (full list can be found at allergy.org.au).6,7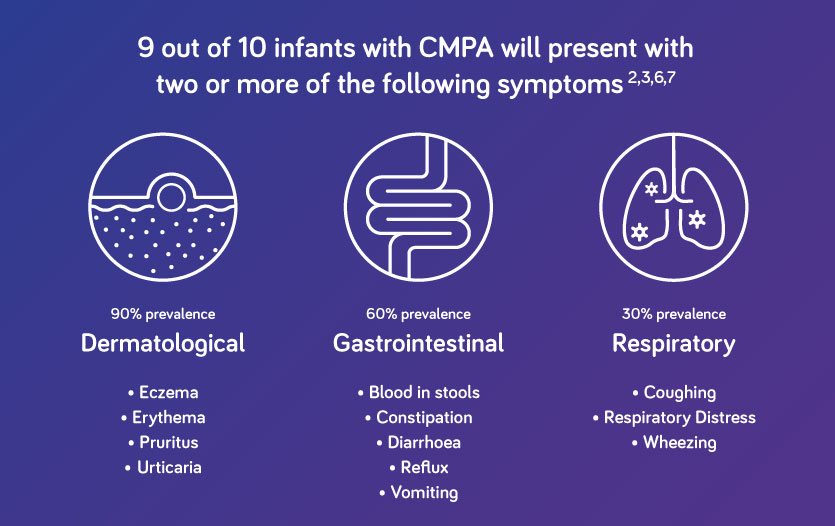 Addressing 5 common misconceptions of CMPA 
#1 To diagnose CMPA, do infants or children need to present with faltering growth?
NO
Many infants or children with CMPA present with faltering growth, but not all.8,9 The possibility of a CMPA diagnosis should not be dismissed if an infant or child appears to be thriving and growing well. 
#2 Are most symptoms caused by cows' milk due to lactose intolerance?
NO
Lactose intolerance and CMPA (non-IgE-mediated allergy, in particular) are often difficult to diagnose due to a similar presentation of gastrointestinal symptoms.  In the majority of cases, gastrointestinal symptoms caused by cows' milk are most likely to be due to an allergic reaction to the proteins in the milk (CMPA) rather than lactose intolerance.2  Lactose intolerance does not involve the immune system, so while some symptoms maybe similar, lactose intolerance does not cause dermatological or respiratory reactions.1,3,7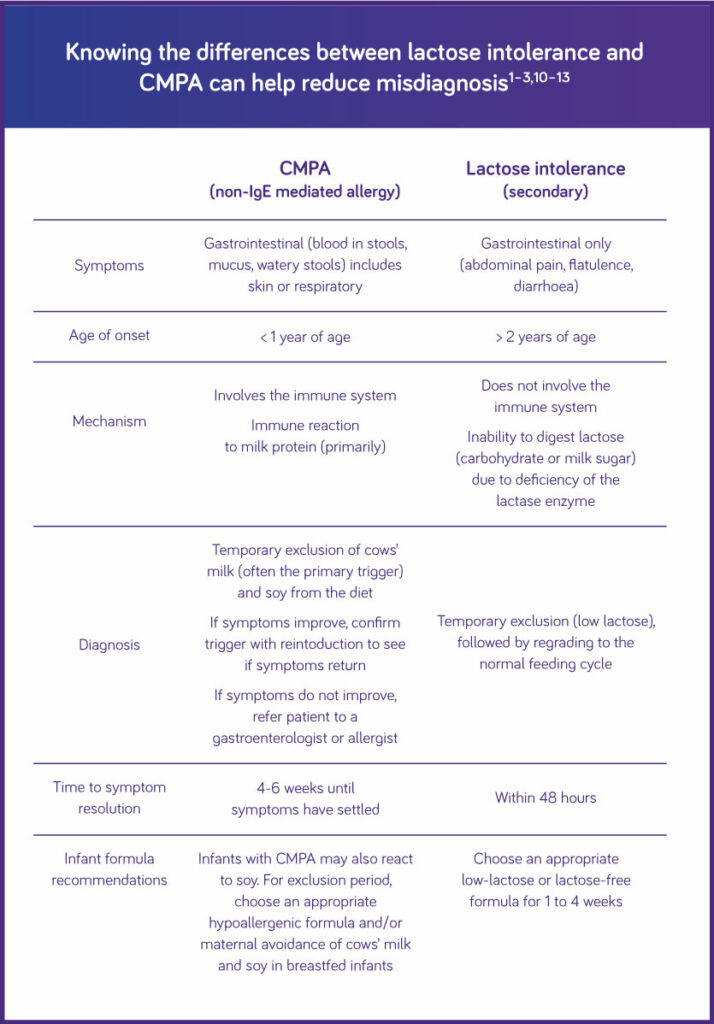 #3

Is CMPA over-reported and not often seen in infancy?
NO
CMPA has a prevalence of 2–7.5% in children under 5 years, usually develops in the first year of life and is one of the most common allergies seen in childhood.1,7,14  In any situation where CMPA is indicated or suspected, a diagnosis needs to be performed and in confirmed cases, the allergen removed from the diet. 
#4

Do all instances of CMPA in children resolve as they get older?
Not necessarily
Population-based studies indicate that in children with CMPA, allergic reactions decrease in severity in >80% of cases by 3 years of age. So over time, some children may be able to tolerate foods that they previously were allergic to, but not all.6,15  Children with CMPA should be reviewed regularly to establish the reaction severity and prevent unnecessary restriction of food containing cows' milk protein from their diet. 
#5

Can you apply a 'one diet fits all' to CMPA management?

 
NO
CMPA management approach should be based on individual circumstances, such as age and severity of the reaction.1,16 Where CMPA is suspected, referral to a specialist and/or dietitian is recommended to provide ongoing supervision, assessment and review of dietary restrictions and to ensure adequate nutritional intake of the infant (and mother, if necessary).1  Several different types of infant formulas are available to help manage CMPA — such as extensively hydrolysed (eHF), amino acid-based (AAF) and soy protein formulas. The table below provides general guidance when selecting an appropriate formula for CMPA.1,16 
Treatment guidelines for diagnosed cows' milk protein allergy (CMPA)16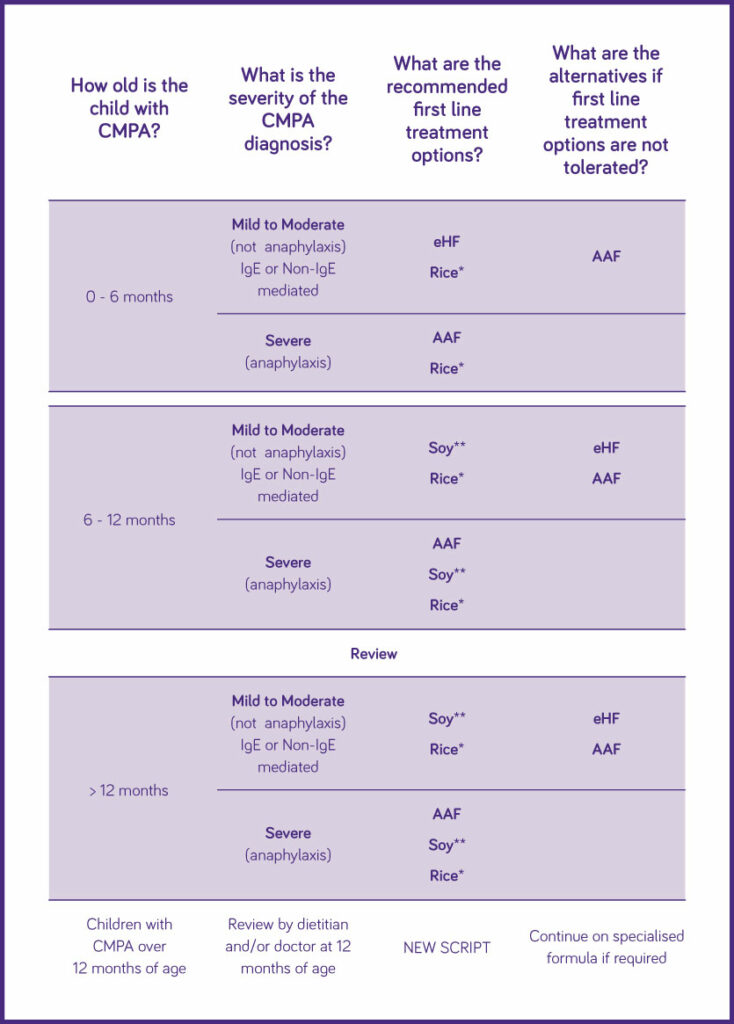 *Rice protein-based formula not suitable for children allergic to rice.
**Soy protein-based formular not suitable for children allergic to soy.
Additional considerations when choosing a formula:1,16 . 
Formula's NOT suitable for CMPA include cow's milk derived formula/milk, lactose free formula/milk, goat's milk formula/milk, sheep's milk formula/milk, camel's milk, 

partially hydrolysed

 formula and A2 formula/milk

 
AAF should be reserved for infants with severe CMPA symptoms and should NOT be used first line for the management of mild to moderate CMPA in primary care

 
Soy milk is not recommended in infants under six months old 

 
Alternative milks (rice, 

oat

 or nut) for children over one year of age should be checked for their calcium (120mg/100mL) protein and fat content to be a suitable cow's milk replacement

 
Understanding the differences between infant formulas can seem complicated. Read our article on Inside the tin: a guide to infant formula for cows' milk protein allergy to understand the differences between the types of formula and to help guide formula choice for your patients with CMPA. 
Download our practical guide to diagnosing CMPA – developed by Dr Jeremy Rajanayagam, Royal Children's Hospital, Melbourne
Nutricia Global Virtual Conference
Featuring 60 international experts, the conference covered a range of topics including education and insight into innovative approaches to understanding and managing CMPA in infants. Sign up to receive content from the Nutricia Global Conference.
Learn more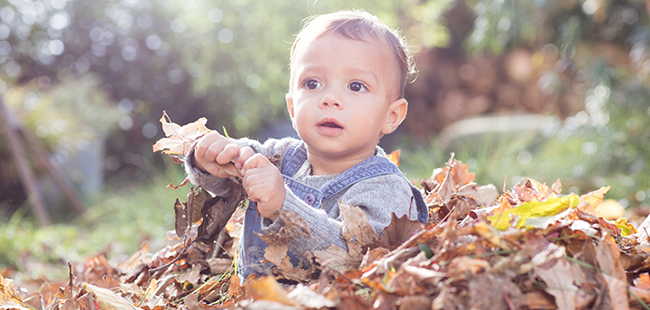 Gut dysbiosis and cows' milk protein allergy (CMPA) — is there a link?
Gut microbiota dysbiosis in infants has the potential to increase the risk of cows' milk protein allergy (CMPA). How can synbiotics help rebalance the gut microbiota and support the immune system?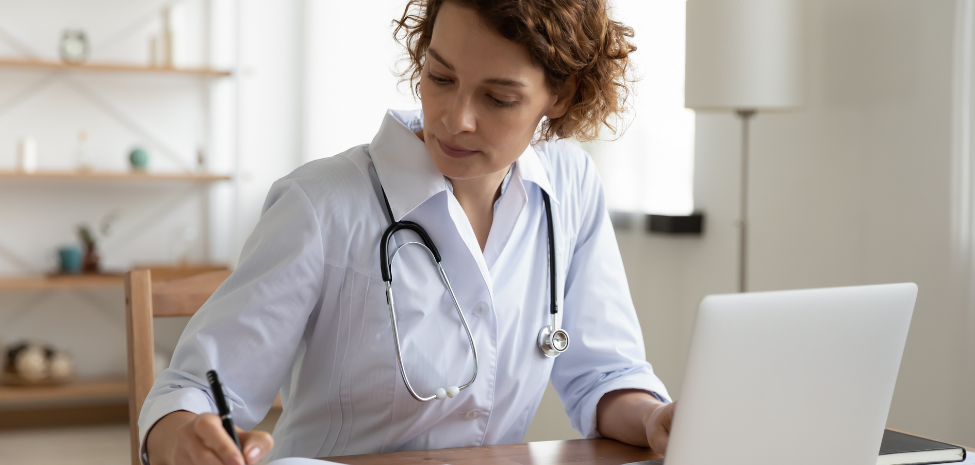 Tools for Diagnosis
Treatment timelines and options may vary depending on your patient's age and the severity of their symptoms. Understand more about your patient's treatment pathway by using these helpful tools.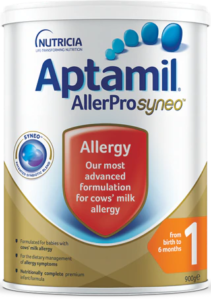 Aptamil® AllerPro Syneo™ 1 (0-6 months)
A nutritionally complete, premium extensively hydrolysed formula (eHF) for infants from birth (0-6 months) with confirmed mild to moderate cows' milk and/or soy protein allergy (not anaphylaxis), requiring a partial or complete breast milk substitute.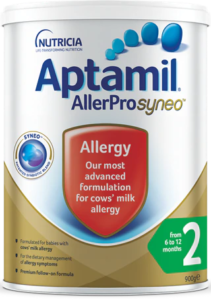 Aptamil® AllerPro Syneo™ 2 (6-12 months)
A premium extensively hydrolysed formula (eHF) for infants with confirmed mild to moderate cows' milk and/or soy protein allergy, requiring a partial or complete breast milk substitute as part of a mixed diet.
Meet our Careline experts
Our Nutricia Careline team of dietitians, nutritionists and midwives are here to help with any questions.