Chicken & Pumpkin Dairy-free Bolognaise Sauce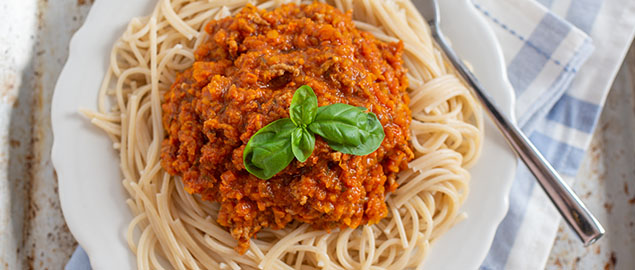 *Image for illustration purposes only and may differ from actual product.
Chicken & Pumpkin Dairy-free Bolognaise Sauce
Neocate Dairy-free Chicken & Pumpkin Bolognaise Sauce Recipe – a dairy-free sauce for kids with cows' milk protein allergy
Ingredients
100

g

Chicken breast, skin removed, minced (or other minced meat as permitted) 

½

cup

Zucchini

1-2

tsp

Oil

1

cup

Pumpkin

1

cup

Cooled boiled water

2-3

scoops

of Neocate Junior Unflavoured* per serving

*Always use the scoop provided in the Neocate tin. 
Instructions
Peel and chop the pumpkin into small pieces. 

Heat the oil in a pan and brown the chicken over a medium heat. 

Add the pumpkin and water.  Bring to a boil and then allow mixture to simmer for approximately 10 minutes until the pumpkin is soft.  When soft, mash the pumpkin with a fork. 

Add the grated zucchini and continue to cook for a few minutes. 

Allow to cool.  Add the 2-3 scoops of Neocate Junior just before feeding. 
Notes
Free from allergens: 
Wheat
,
Cows' 
M
ilk, Peanuts, 
Tree nuts, 
and Soy.
TIPS 
Serve with pasta suitable for dietary requirements, or with cooked white rice, ensuring these contain only permitted ingredients.

 

The vegetables in this recipe can be replaced with other permitted vegetables.

 

The dairy-free bolognaise sauce can be frozen.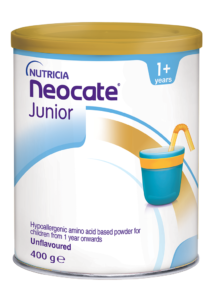 Neocate® Junior Unflavoured
A nutritionally complete, amino acid based, powdered formula for children over 1 year of age.