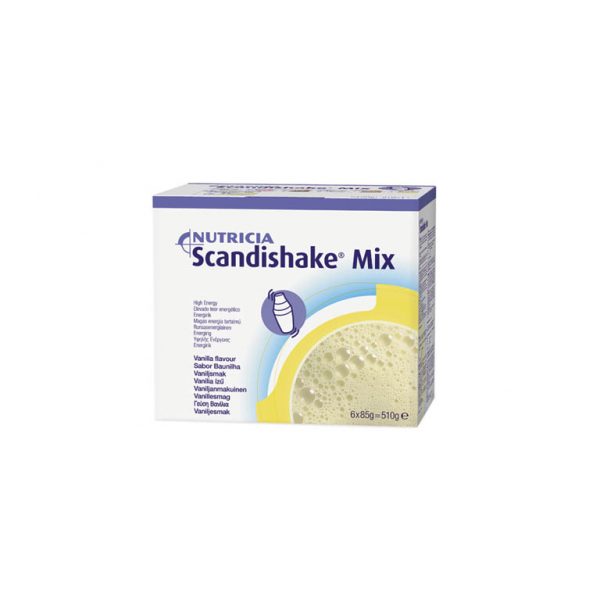 Scandishake Mix
A powdered, high energy nutritional supplement suitable for Cystic Fibrosis patients.
High fat content (43%E) to meet increased fat requirements.
Enriched with minerals to supplement increased losses.
Fibre free (<0.5g/100g).
Convenient single serve sachets for quick and easy preparation.
Product Information
A high energy, powder based oral nutritional supplement suitable for patients with Cystic Fibrosis. 
Indications
For the dietary management of:
Disease-related malnutrition.
Patients with high energy requirements.
Patients with malabsorption states or other conditions requiring fortification with a fat/carbohydrate supplement e.g. cystic fibrosis.
Important Notice
Not suitable as a sole source of nutrition.
Not suitable for parenteral use.
Not suitable for tube feeding.
Not suitable for patients with galactosaemia.
Not suitable for patients with cow's milk protein allergy.
Not suitable for infants and children under 3 years of age.
Direction for Use
One sachet of 85g powder should be dissolved in 240ml whole milk.
Prepare the drink per serving.
Consume prepared drink within 2 hours. Discard any unfinished drink.
Usage to be determined by a healthcare professional.
Storage
Keep tightly sealed and store in a cool, dry place.
Once opened a sachet of Scandishake should be stored in a cool, dry place and used within 2-3 days.
Do not refrigerate.
Discard unused contents after 24 hours.
Order Information
Contact Nutricia Customer Care 1800 889 480
Scandishake Mix

Code

 

Units per carton

 

Vanilla

49752

6 x 85g sachets

 
Ingredients
Full ingredients list and nutritional information available on Factsheet.
Allergen & Cultural Information
Contains: cow's milk protein, soy.
Does not contain: wheat, egg, nuts*, lupins.
No Halal forbidden ingredients.
No Kosher forbidden ingredients.
No gluten containing ingredients. No detectable gluten when tested to a sensitivity level of less than 5 parts per million (<5 ppm i.e. <5mg/kg).
Additional Information
* Peanut (Arachis hypogaea), Almond (Amygdalus communis L .), Hazelnut (Corylus avellana), Walnut (Juglans regia), Cashew (Anacardium occidentale), Pecan nut (Carya illinoiesis (Wangenh.) K. Koch), Brazil nut (Bertholletia excelsa), Pistachio nut (Pistacia vera), Macadamia nut and Queensland nut (Macadamia ternifolia), and products thereof.