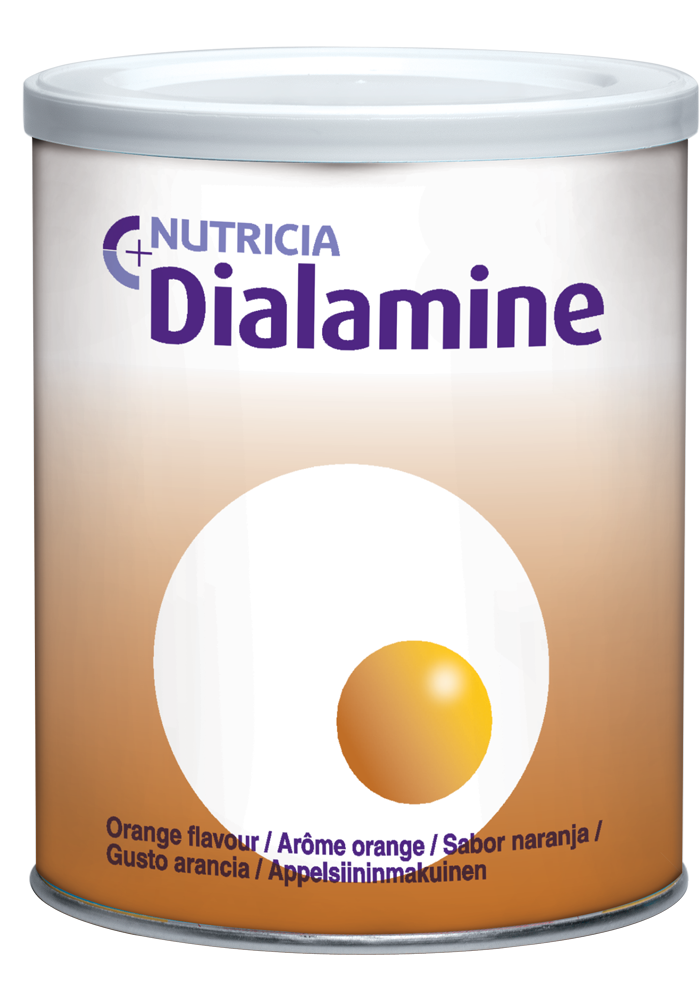 Dialamine
Indications
For the dietary management of advanced chronic renal failure and certain UCD, where an essential amino acid supplement is required.
Order information
Contact Nutricia Customer Care 1800 889 480
| Size | Code | Units per carton |
| --- | --- | --- |
| 400g | 49696 | 4 |
Sample Requests
Please contact the Nutricia Metabolic Key account manager
for your region.
Product Information
Glycerol Trioleate (GTO) Oil module is a pale yellow hexacosanoic (C26) free, oleic rich long chain triglyceride (LCT) oil, which is a component of Lorenzo's oil.
Direction of Use
Dialamine may be taken as a drink or a paste.
Suggested dilution is 1 to 5, i.e. 20g of powder plus 100ml of water.
Mix the prescribed amount of powder to a paste with cold water and make up to the required volume.
If taken as a paste, water or diluted drinks should be offered at the same time.
Storage
Store in a cool, dry place.
Always replace the container lid after use.
Once opened, use within one month.
Once reconstituted, store in a refrigerator and consume within 24 hours.
Stir or shake immediately before serving.