Introducing our First Ever Plant-Based Oral Nutritional Supplement: Fortisip PlantBased
At Nutricia we know that every patient's journey is unique and with the growing number of patients embracing a plant-based diet and lifestyle,1 we have developed our first vegan oral nutritional supplement (ONS) to meet their nutritional and lifestyle needs.
Discover Fortisip PlantBased
Specifically formulated to support patients with disease related malnutrition who follow a plant-based lifestyle, Fortisip PlantBased is a high energy, plant-based oral nutritional supplement (ONS), suitable as a sole source of nutrition.
Fortisip PlantBased is available in two delicious flavours which have been liked and selected by healthy adults2: a refreshing blend of passionfruit and mango flavours and our signature Mocha, a blend of coffee & chocolate flavours.
Learn more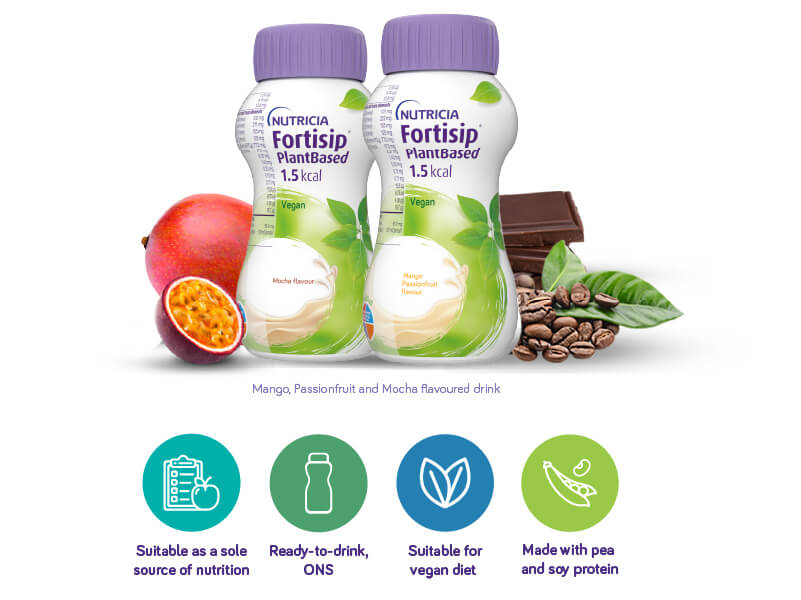 The Growing Trend of Veganism and Plant-Based Eating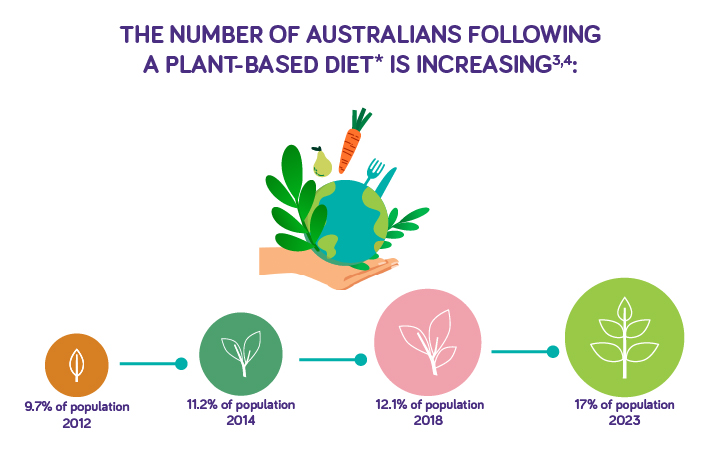 There is an increasing trend for plant-based foods in Australia, with the latest statistics reporting around 3% of Australians are following a vegan diet, and around 17% of Australians are following a plant-based diet*.3 Statistics also show that 34% of Australians are 'likely' or 'very likely' to become vegan or vegetarian in the next 12 months5, and just under 1/3 of Australians use plant-based alternatives to milk at least once per week6.
People are interested in a plant-based diet for a variety of reasons, including for animal welfare, concerns for the environment, related to cultural beliefs, health considerations and sustainability reasons.7-9 This trend also needs to be considered in patients with disease- related malnutrition, with 16% of patients requiring medical nutrition seeking a plant-based option.10
Patient Preferences
Patients' dietary preferences can vary widely, therefore it's important that healthcare professionals seek to understand the requirements of their patients, to appropriately meet their needs. Plant-based medical nutrition solutions can offer important choice to patients which can help address their values, ultimately helping to improve adherence to nutritional management.11,12
Click here to watch Dr. Anne Holdoway discuss the importance of plant-based medical nutrition in meeting patient's preferences and values. This educational event was held by Nutricia during the ESPEN 2022 Congress.
An Innovation supported by Evidence
In a single arm, 4-week intervention study among community-living patients at risk of malnutrition 11,13, it was found that:
Patients and healthcare professionals reported Fortimel PlantBased Energy was well tolerated
Fortimel PlantBased Energy significantly increased daily energy and protein intake compared to baseline
Patients were 94% compliant to their prescription of Fortimel PlantBased Energy over the 4 week intervention
Malnutrition risk according to MUST score was significantly reduced in patients at high nutritional risk over the 4-weeks intervention period compared to baseline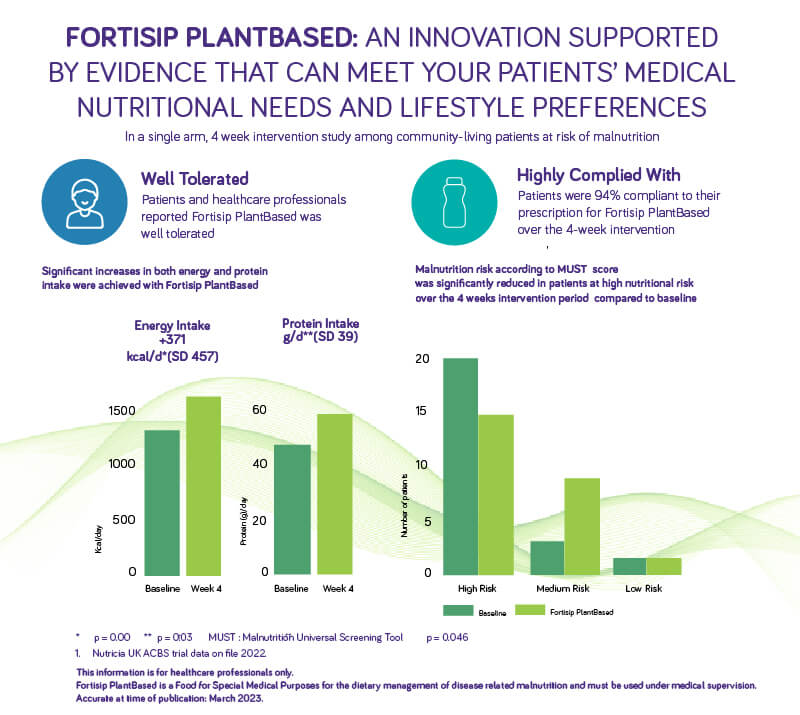 This content is for healthcare professionals only – not for distribution or sharing to the general public.
Fortisip PlantBased is a Food for Special Medical Purposes for the dietary management of disease related malnutrition and must be used under medical supervision.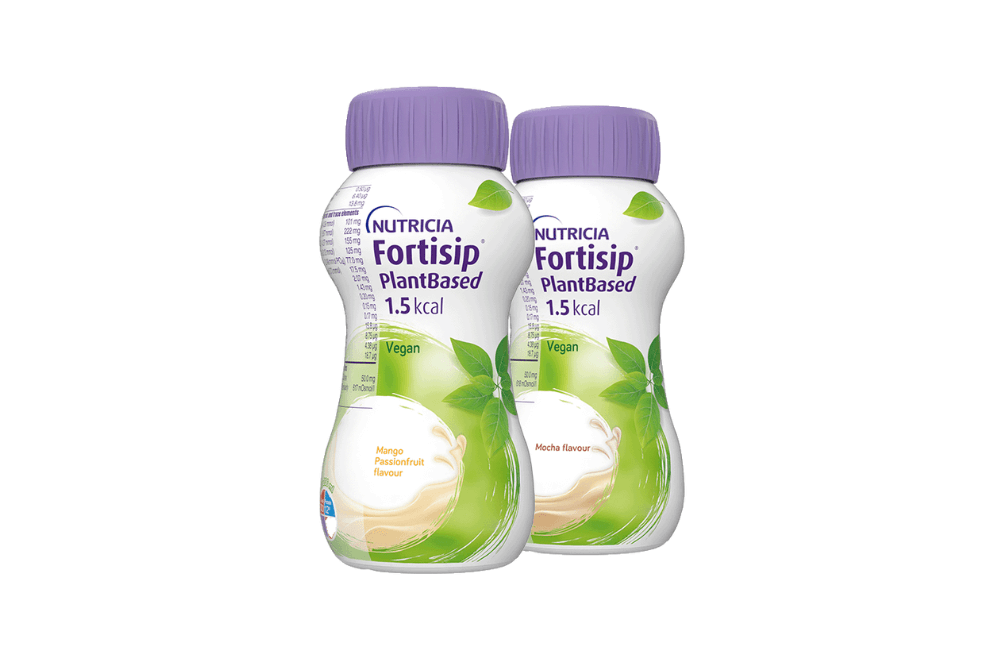 Fortisip PlantBased
A ready-to-drink, high energy (1.5kcal/ml), nutritionally complete, plant-based oral nutritional supplement.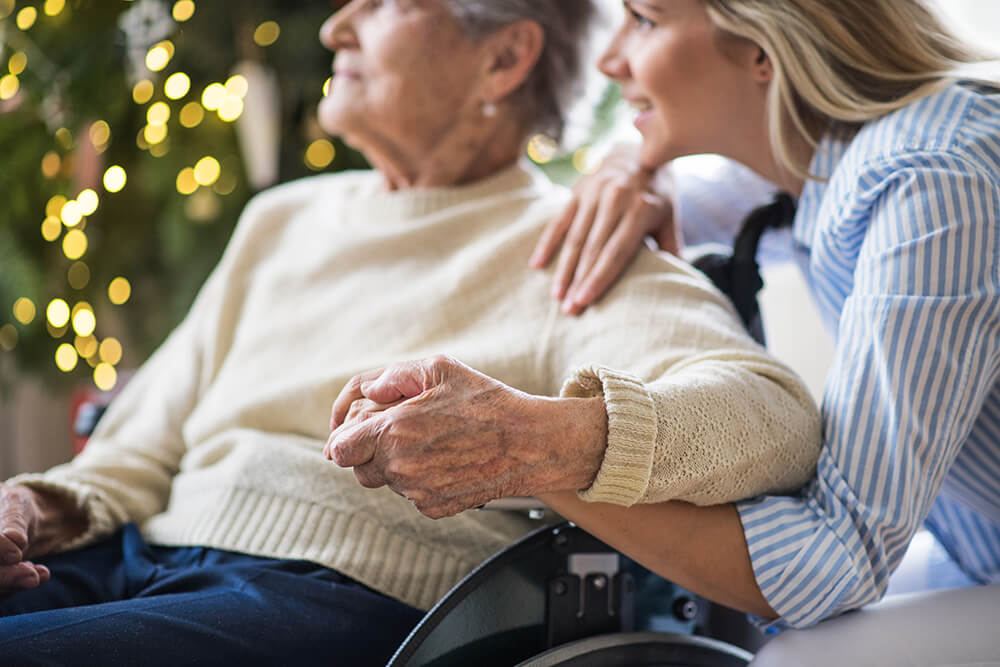 Frailty and Malnutrition
Disease related malnutrition can lead to loss of muscle mass, which reduces body strength and walking speed. This is a state known as 'frailty'. Find out how our products can help your patients.
REFERENCES
Euromonitor International, Plant-based Eating and Alternative Proteins, June 2021.

Product evaluation with N=83 healthy adults aged above 40 years (2021, Spain)

Diets and nutrition in Australia as of June 2023. Survey from Statista. Available at: Diets and nutrition in Australia 2023 | Statista (accessed September 2023)

Rise in vegetarianism not halting the march of obesity. Roy Morgan 2010. Available at: Rise in vegetarianism not halting the march of obesity – Roy Morgan Research (Accessed: September 2023)

Understanding the New Asian Consumer. PwC, Rabobank and Temasek 2020. Available at: The Asia Food Challenge 2021 (pwc.co.nz) (Accessed September 2023)

Plant Based Eating. CHOICE 2021. Available at: Surge in popularity of plant-based foods | CHOICE (Accessed September 2023

Vegan Living survey (20 21) Available at: Vegan food and living [Accessed November 2022].

North M, et al. A qualitative examination of the motivations behind vegan, vegetarian, and omnivore diets in an Australian population. Appetite. 2021 Dec 1;167:105614.

The Vegan Society Environment and sustainability Available: Vegan society[Accessed November 2022]

Data on File, Nutricia, 2021

Griffen C, et al. Abstract no. ESPEN22-LB-2147. Presented at ESPEN Congress, Vienna, 3rd-6th September 2022.

Hubbard GP, et al. Clin Nutr. 2012;31:293-312[09.11.2021]

Delsoglio M, et al. Abstract no. ESPEN22-LB-2139. Presented at ESPEN Congress, Vienna, 3rd-6th September 2022
*Plant-based diet includes vegan, vegetarian and flexitarian diets