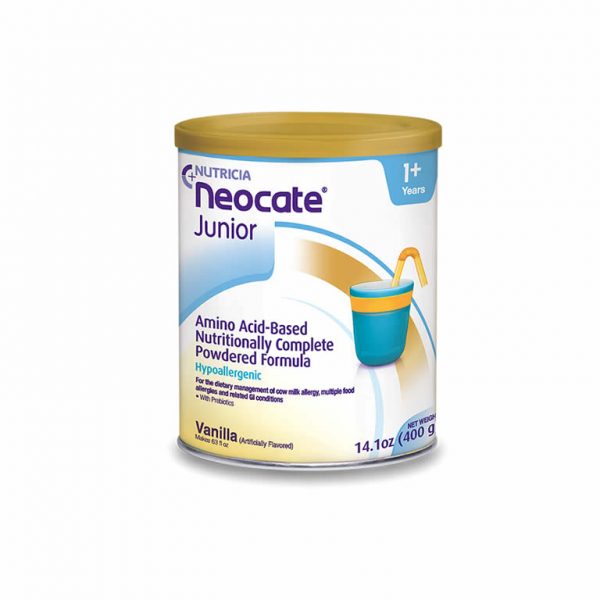 Neocate Junior Vanilla
Order information
Contact Nutricia Customer Care 1800 889 480
| Flavour | Code | Units Per Carton |
| --- | --- | --- |
| Vanilla | 133056 | 4 |
Product Information
A nutritionally complete, amino acid based, powdered formula for children over 1 year of age.
Flavour
Vanilla (4x400g tins)
Indications
For the dietary management of children over 1 year of age with cows' milk allergy, multiple food protein allergy, eosinophilic oesophagitis and other medical conditions where an amino acid based product is recommended.
Important Notice
Not for parenteral use
Not suitable for infants under the age of 12 months
Suitable as a sole source of nutrition for children over 1 year of age
When Neocate Junior Vanilla is used to supplement a restricted diet, it is important to ensure that adequate intakes of all nutrients are monitored and provided.
Directions for Use
The quantity of feed and the dilution should be determined by a clinician or dietitian only and is dependent on the age, bodyweight and medical condition of the patient
Add 4 scoops (scoop weight is approximately 7.3g) of Neocate Junior Vanilla to 120ml of warm or cool water to yield a final volume of 140ml at the recommended feed concentration (21.2% w/v)
Always follow preparation instructions as stated on the can
Always follow preparation instructions as stated on the can
Shake or stir formula immediately before use
Feed prepared in advance must be cooled, stored in the refrigerator and used within 24 hours. Discard all unused reconstituted product after 24 hours
Note: If taken orally, Neocate Junior Vanilla is best served chilled. If using boiled water, cool before preparing the feed. Do not boil prepared feed.
Storage
Store unopened cans in a cool, dry place.

<li class="p2"Once opened, reseal can and store in a cool, dry place (not a refrigerator) and use within one month
Product Type
Amino Acid, Elemental, High MCT
Age Group
Paediatric, Paediatric (12+ Months)
Nutritional Information
Average contents
Per 100g
Per 100ml*
Nutrition Information

Energy

472 kcal
100 kcal

1976 kJ
419 kJ

Protein Equivalent

14.8 (12.5%E) g
3.1 g

Carbohydrate

51.4 (43.6%E) g
10.9 g

—

Sugars

4.4 g
0.93 g

—

as Lactose

0 g
0 g

Fat

23 (43.9%E) g
4.9 g

—

Saturates

9.8 g
2.1 g

 —

of which MCT

6.9 g
1.5 g

—

Monounsaturates

8.0 g
1.7 g

—

Polyunsaturates

4.1 g
0.87 g

 —

of which LA

3750 mg
794 mg

 —

of which ALA

372 mg
78.9 mg

—

ω6:ω3 ratio

10:1

Fibre

1.9 g
0.4 g
Minerals

Sodium

239 mg
50.6 mg

10.4 mmol
2.2 mmol

Potassium

653 mg
138 mg

16.7 mmol
3.5 mmol

Calcium

565 mg
120 mg

Phosphorus

382 mg
80.9 mg

Magnesium

76.5 mg
16.2 mg

Chloride

364 mg
77.1 mg

Ca:P ratio

1.5
Vitamins

Vitamin A

287 μg-RE
60.8 μg-RE

Vitamin D

9.5 μg
2 μg

Vitamin E

6.7 mg-α-T.E
1.4 mg-α-T.E

Vitamin K

19.2 μg
4.1 μg

Vitamin C

44.6 mg
9.4 mg

Thiamin

0.48 mg
0.1 mg

Riboflavin

0.96 mg
0.2 mg

Niacin

4.3 mg NE
0.91 mg NE

Vitamin B6

0.48 mg
0.1 mg

Folic acid

143 μg
30.3 μg

Vitamin B12

1.9 μg
0.40 μg

Biotin

14.4 μg
3.1 μg

Pantothenic Acid

1.9 mg
0.40 mg
Trace Elements

Iron

7.4 mg
1.6 mg

Zinca

4.7 mg
1 mg

Manganese

620 μg
131 μg

Copper

530 μg
112 μg

Iodine

85.2 μg
18.1 μg

Molybdenum

21.5 μg
4.6 μg

Selenium

19.2 μg
4.1 μg

Chromium

18 μg
3.8 μg
Other

Choline

143 mg
30.3 mg

Inositol

105 mg
22.2 mg

Osmolality

620 mOsmol/kgH20