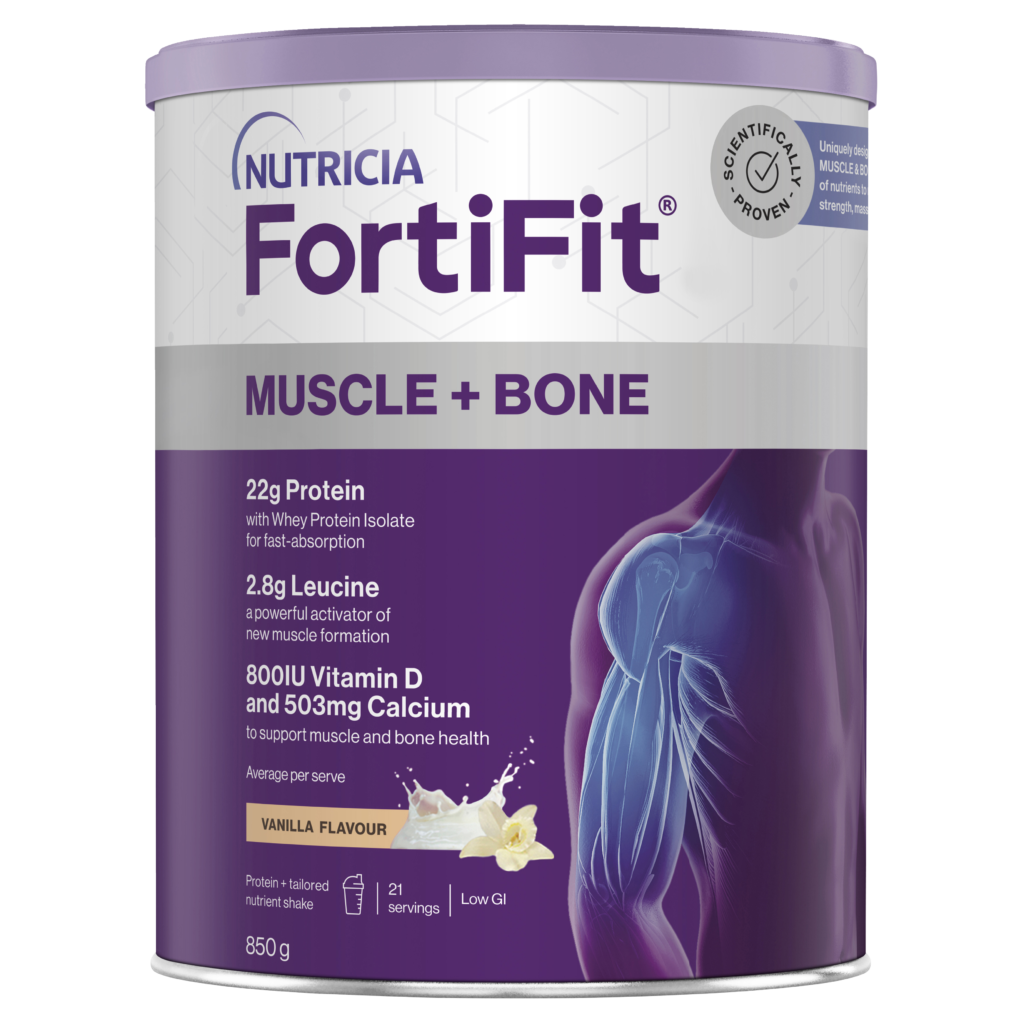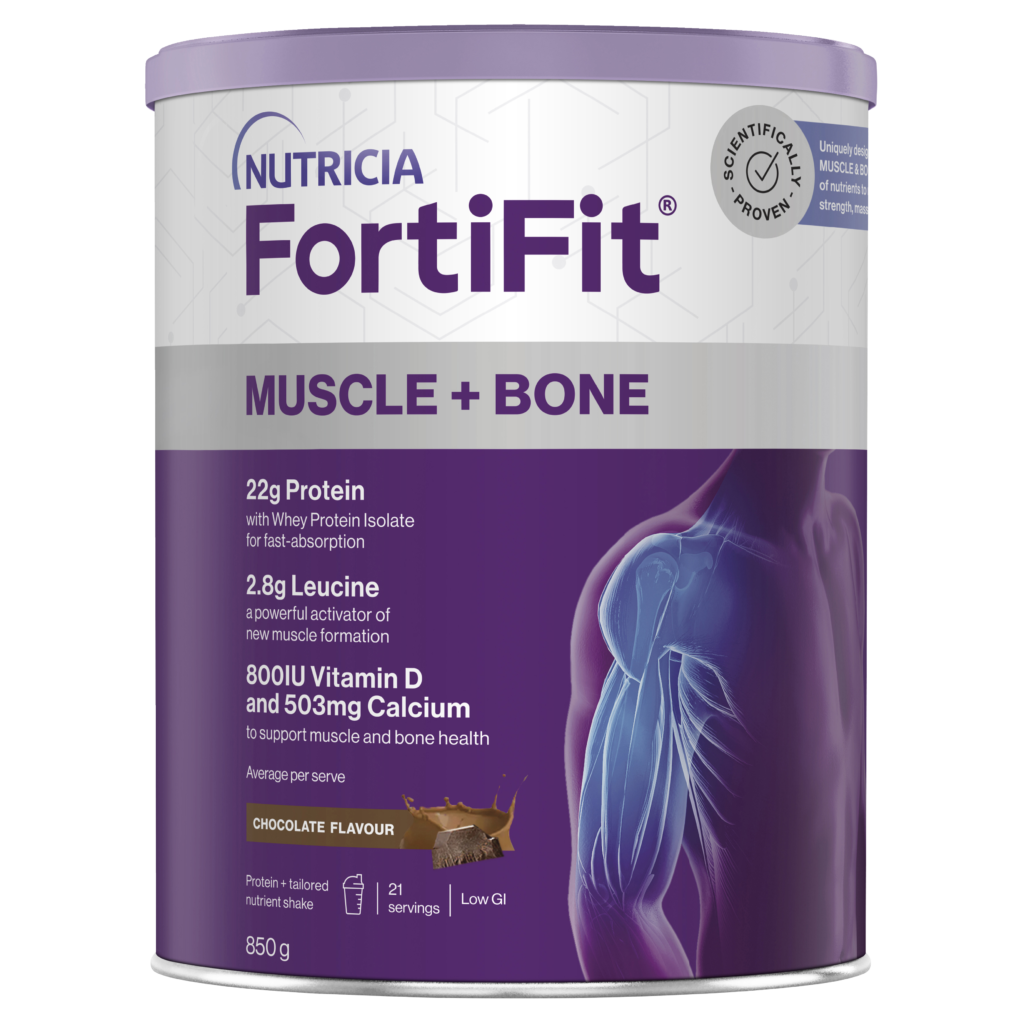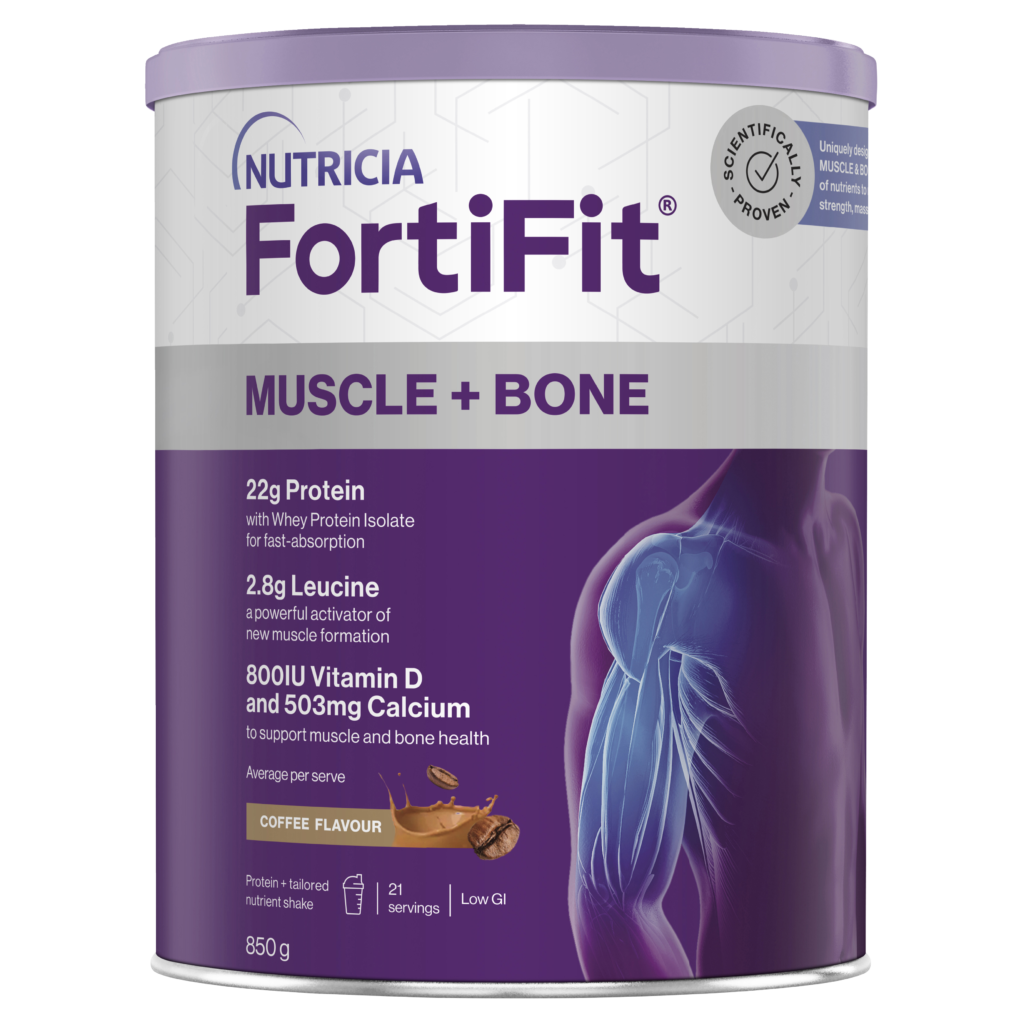 FortiFit Muscle + Bone
Protein (22g/serve): with Whey Protein Isolate a 'fast' protein with high bioavailability of essential amino acids for the muscle5,6
Leucine (2.8g/serve): an essential amino acid that is a powerful activator of muscle protein synthesis7,8
Vitamin D (800 IU or 20µg/serve): sensitizes the muscles anabolic response to leucine2
Calcium (503mg/serve): enhances bone mineral density9
Low GI
Product Information
FortiFit Muscle + Bone is a fortified whey protein powder containing ActiSyn®, the combination of whey protein isolate, leucine and vitamin D designed to stimulate muscle protein synthesis.1-4
Features
Whey Protein Isolate (20g / serve): a 'fast' protein with high bioavailability of essential amino acids for the muscle5,6
Leucine (2.8g/serve): an essential amino acid that is a powerful activator of muscle protein synthesis7,8
Vitamin D (800 IU or 20µg/serve): sensitizes the muscles anabolic response to leucine9
Calcium (503mg/serve): enhances bone mineral density10
Indications
FortiFit Muscle + Bone is a Food for Special Medical Purpose (FSMP) for the dietary management of the age-related loss of muscle strength, mass, and function.
Important Notice
Not suitable as a sole source of nutrition.
To be used with caution in people with:
Renal and/or hepatic disease
Endocrine (hormone) disease associated with abnormal calcium and/or bone metabolism
Using additional calcium supplementation exceeding 500 mg/day
Using additional vitamin D supplementation
Not suitable for use by people under the age of 18 or pregnant women.
Do not consume with additional vitamin D supplements without medical supervision.
Allergens
Add 4 scoops of powder to 125mL of water in a shaker.
Shake well before consuming.
Consume after preparation or discard unfinished drink.
Recommended intake of 1 serve per day (40g powder + 125ml water = 150ml prepared) or up to 2 servings in accordance with healthcare professional advice, as part of a healthy lifestyle and well-balanced diet.
Directions for Use
Best served chilled.
Shake well before use.
Usage to be determined by a healthcare professional.
Storage
Store in a cool, dry place.
Use by the date on tin bottom
After opening, keep tin aright and use contents within 4 weeks.
Ordering Information
Contact Nutricia Customer Care 1800 889 480
| | | | |
| --- | --- | --- | --- |
| FortiFit Muscle & Bone | Presentation | Code | Servings per tin |
| Vanilla | 850g tin | 172616 | 21 |
| Coffee | 850g tin | 172615 | 21 |
| Chocolate | 850g tin | 172614 | 21 |
Ingredients
Full ingredients list and nutritional information available on Factsheet.
References
Anthony JC et al. J Nutr. 2000;130(10):2413-9
Salles J et al. Mol Nutr Food Res. 2013;57(12):2137-46
Chanet, et al. 2017; 147:2262-71
Dijk, et al Clin Nutr ESPEN, 2018;24:127-133.
Dangin M et al. J Physiol 2003;549(Pt 2): 635-44.
Pennings B et al. Am J Clin Nutr. 2011;93(5):997-1005.
Garlick PJ. J Nutr. 2005;135(6 Suppl):1553s-6s.
Anthony JC et al. J Nutr. 2000;130(10):2413-9.
Food Standards Code Australia & New Zealand. Shedule 4 Nutrition, health and related claims. https://www.foodstandards.gov.au/code/Documents/Sched%204%20Nutrition%20and%20health%20claims%20v159.pdf
Molnár, et al. Physiol Int. 2016;103:368-376
Oesen, et al. Exp Gerontol. 2015;72:99-108.
Barichella, et al. Neurology. 2019;93:e485-e496
Verreijen, et al. Am J Clin Nutr. 2015;101:279-86.
Bauer, et al. J Am Med Dir Assoc. 2015;16:740-7